Owl designed felt cushion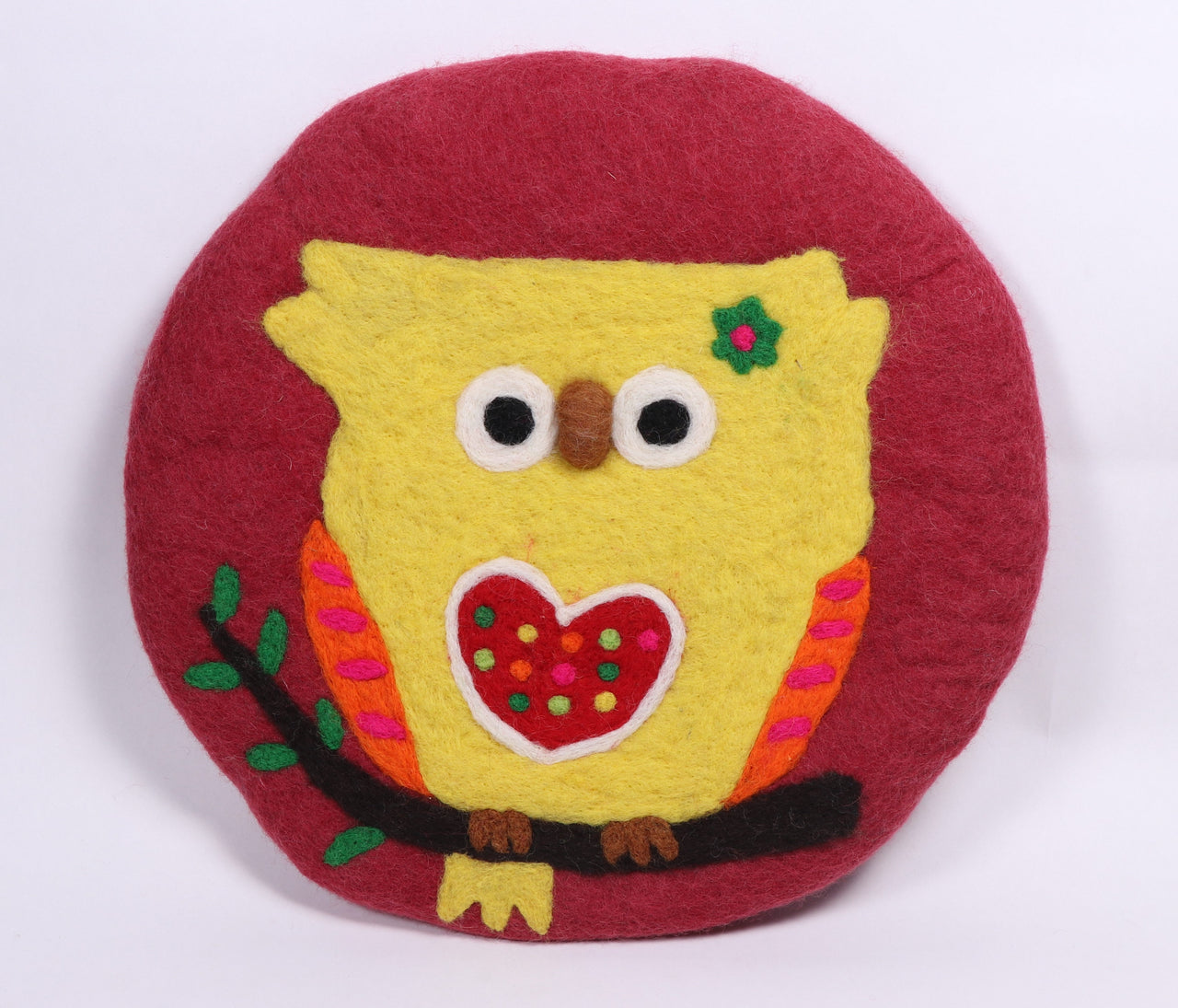 Description
Care Instruction
Size
Enhance your favourite place with comfort providing felt cushions. Not only improving your body posture, felt cushions help making your bed or couch stylish and inviting. Present in different designs and colours, you can add finishing touch to your home or working place.
Motivating local artisans, Felt and wool comes up with newly designed and variable coloured cushions. Whether the cushions are for bed, couch or chair, they are the extremely comfortable ones with head turning capacity.
Features:
Work of art
Luxurious
Comfortable
Easy to clean
Pressure relief
Benefits:
Felt cushions are in fact a piece of art. Skilled Nepali local artisans manufacture the wool felt cushions with lots of love reflecting their art. Available in different colours and shape, it catches the eye of everyone out there.
Cushions are entitled with the name of luxurious items since so long. They were actually related to status of a person. You can simply increase the aesthetics of your room along with the luxuriousness with owl felted cushions from Felt and wool.
Filled with best quality fibers, felt cushions are extremely comfortable, resilient and provides consistent level across the entire cushion. Therefore, it is a comfort providing product after a busy day at work or school.
Wool felt products are simply cleaned, so as the felt cushions. It can be cleaned using cool water by hands. If there seems any spot or stain you can just spot clean it in order to retain its quality.
Felt and wool primarily focuses on providing relief from pressure as the felt cushions are designed to reduce peak pressure zones on skin. Along with pressure relief nature, the felt cushions are well known for the posture support.
With all the benefits you can achieve from a cushion, Felt and craft offer you wool felt cushion that is artistic as well as eye catching. Give an admirable look to the place you adore the most with our beautifully designed owl felt cushions. Available in any size and colour imaginable.
Care instructions
Here below are the instructions for you to clean and take proper care of the product:
Simply brush it off to remove dust or debris from it.
Clean by hands using cold water or spot clean it for better result. It will help retaining the quality of the product.
Do not leave in wet areas or strong sunlight for a long time.
Lay flat to dry if it gets any kind of wetness.
As wool felted product is easy to shape, you can give it a quick fix just by using soap and cool water.
Worldwide free shipping
FREE & FAST global shipping* on all orders
Hand made with love
Hand crafted with love from Nepal
24 Hour Support Available