Durable felt ball rugs
Size
40x60 cm
90x150 cm
120x180 cm
150x240 cm
180x275 cm
240x300 cm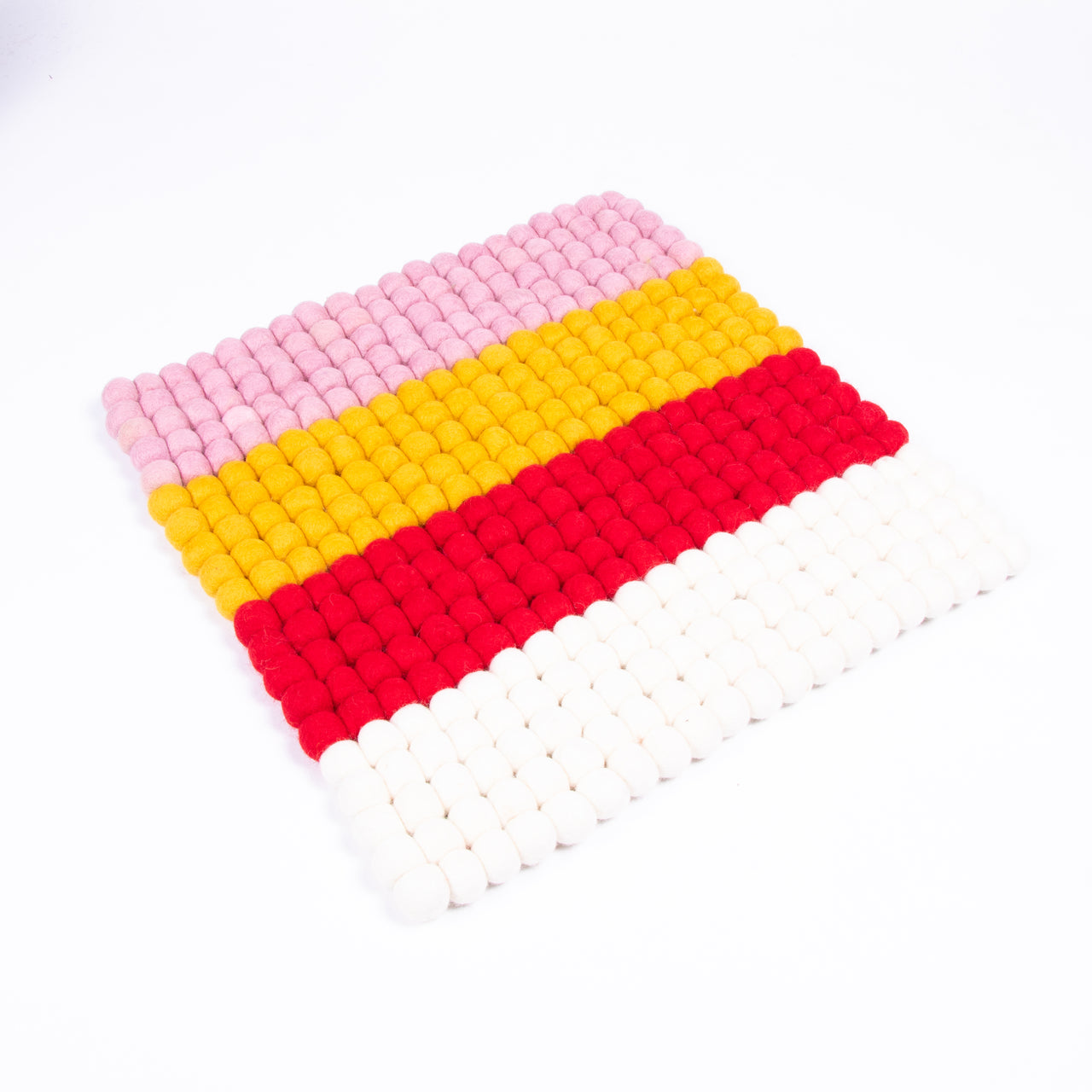 Description
Care Instruction
Size
Wool felt ball rug is the best and healthy alternative to other types of rug. It implies multiple benefits such as it is eco-friendly in nature and is made with natural wool. The most compelling reason you can opt for wool felt ball rug is that it distinguishes itself from the rest of the rugs available in the market by offering a lifelong product. Other than these, it also provides an advantageous look to your store or home.
Some of the advantages that the wool felted ball rug possesses are:
Natural and safe: Felt ball rugs from Felt and wool are handmade in nature. The felt balls used in the rugs are made from pure merino wool. It is made without the use of harmful chemicals. So, it is a natural and safe product.
Made with love: Ball rugs are made by the local Nepali women. Being a kind, determined and considerate craftsperson, they manufacture it with love.
Environmentally friendly: There is no emission of harmful smoke, gases or chemicals while making felt items. So as the ball rug does. Being non-toxic and of azo-free dye, the rug is environmentally friendly.
Durable: The rugs from Felt and wool are gentle, strong and sturdy in nature. Due to this reason, the rugs made out of wool felt lasts long being a durable and safe product.
Easy to clean: You don't have to worry for the cleanliness of felt rugs. Use vacuum to remove dust and dirt. You can hand wash or spot clean but do not rub the balls aggressively. It's simple to clean and is effective in use.
Economical: As the ball rug is natural, handmade and environmentally friendly, it can be used without any doubt. In addition to that, the product can be cleaned regularly and lasts for the life time. Therefore, the rug comes out being an economical product.
Wool felt ball rug is ideal for floor cover, both indoors as well as outdoors. It makes a beautiful gift for any occasion and can be used to spruce up your floors, wherever it might be. The environmentally friendly and sustainable wool felt ball rug will add a natural touch to your interiors and won't cost you an arm and leg.
Care instruction for felt ball rugs:
Above all, hand washing is the best way of cleaning wool felted products including ball rugs. So, it's better to hand wash it
The ball rug can be washed in a gentle cycle and then sundried. You can dry clean it as well.
Spot cleaning of the rug can also be a great choice of cleaning as it requires less effort.
You can use soapy water to give a quick fix to the felted balls that are stitched to form the rug.
Keep in mind that you don't soak the balls or rub them aggressively. If you do so, your rug can get damaged or its quality may degrade.
One can simply remove the dust and dirt from the ball rug using a vacuum cleaner.
In addition, felt ball rug can be regularly cleaned. But, do not place the ball rug in a wet area.
Worldwide free shipping
FREE & FAST global shipping* on all orders
Hand made with love
Hand crafted with love from Nepal
24 Hour Support Available