Felt and Wool Felt Cat cave Bed and House for Indoor Kittens Ecm 100% Natural Merino Wool Extremely Cozy and Warm.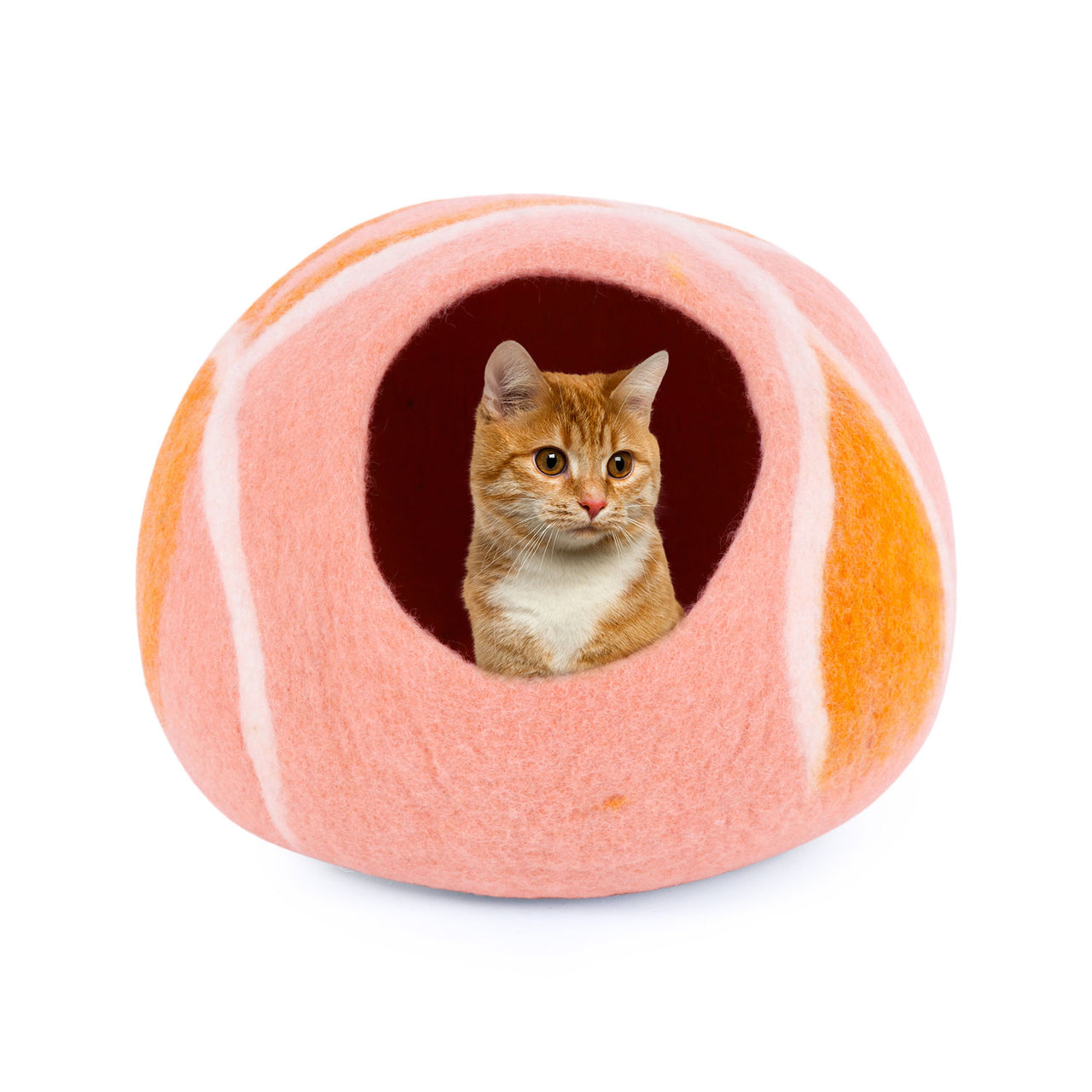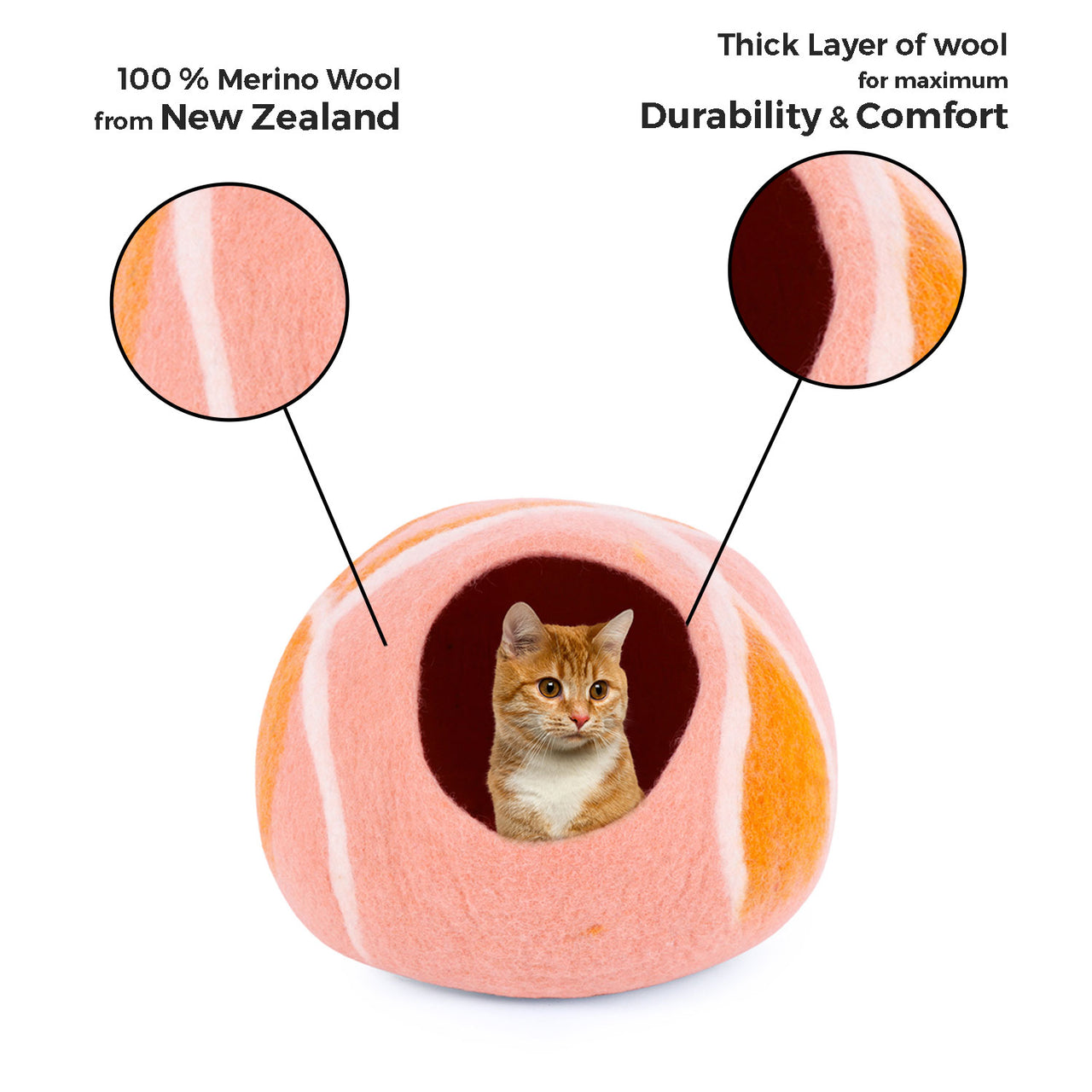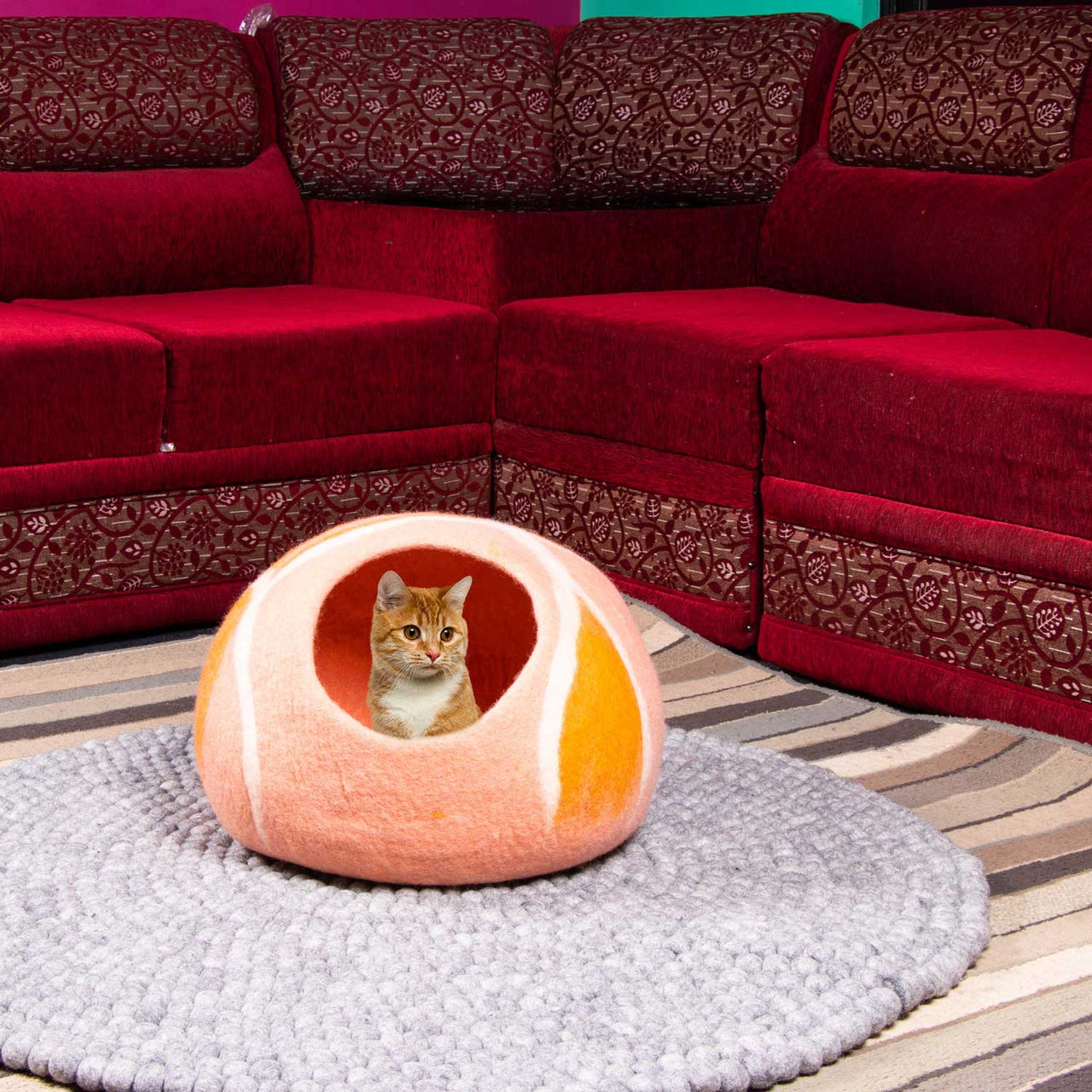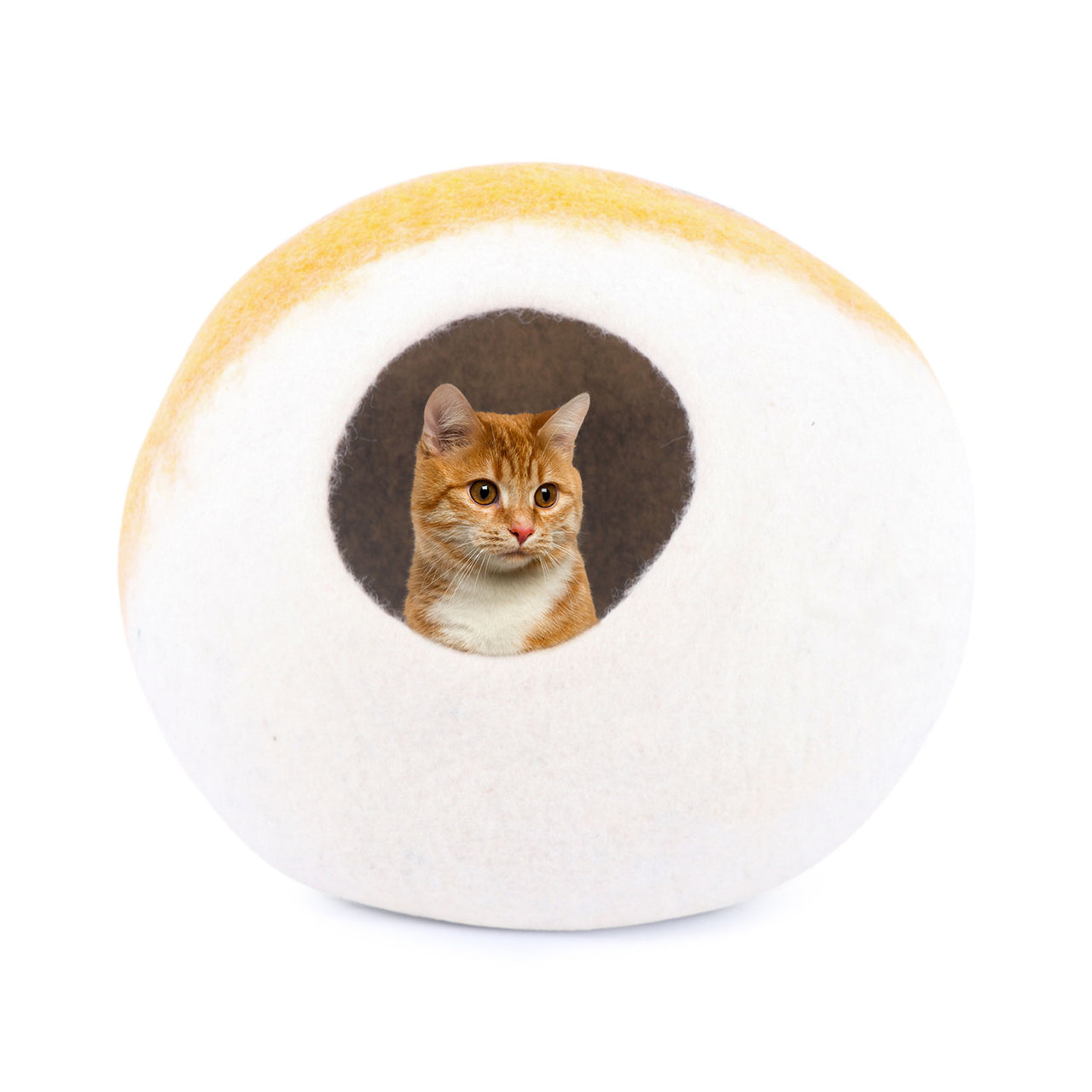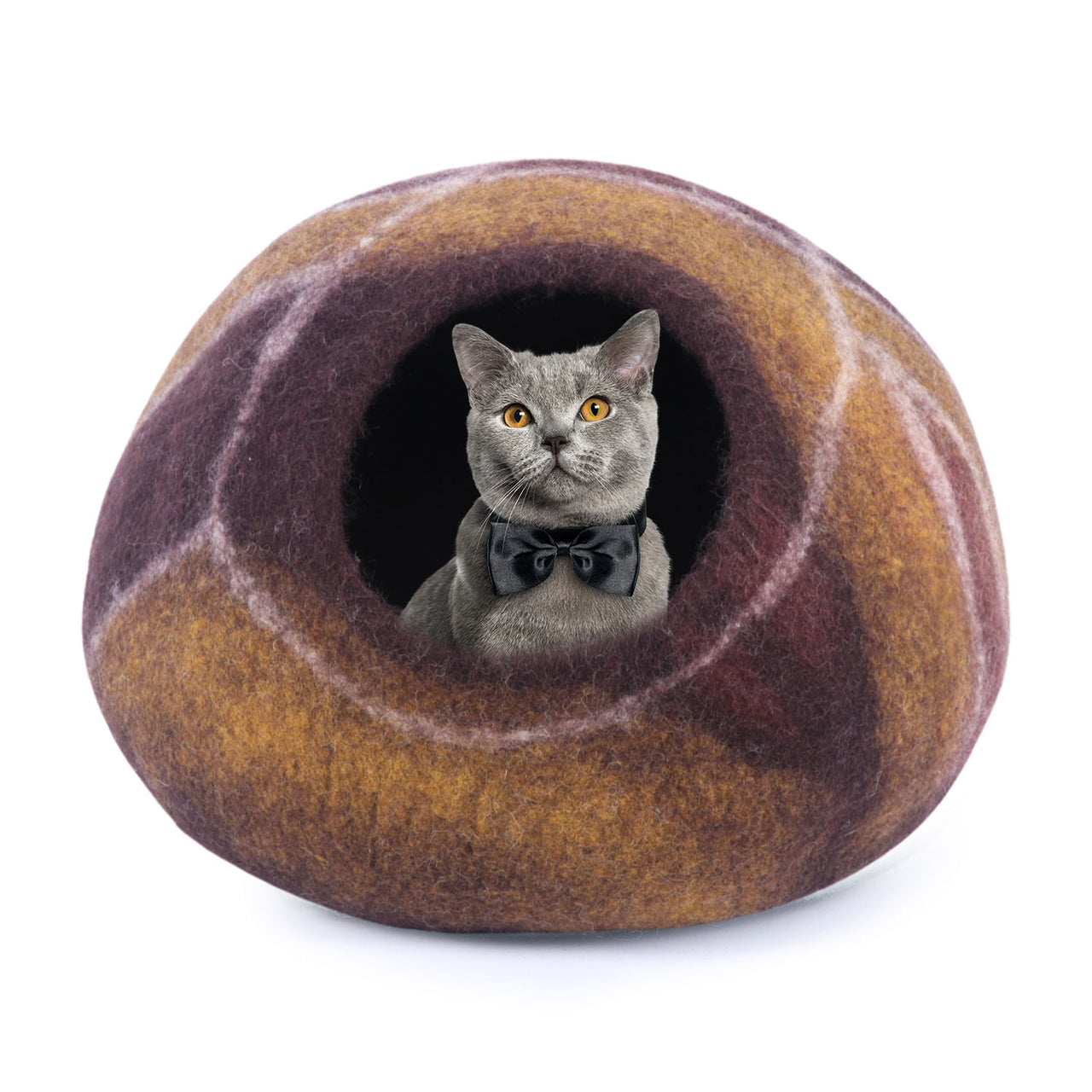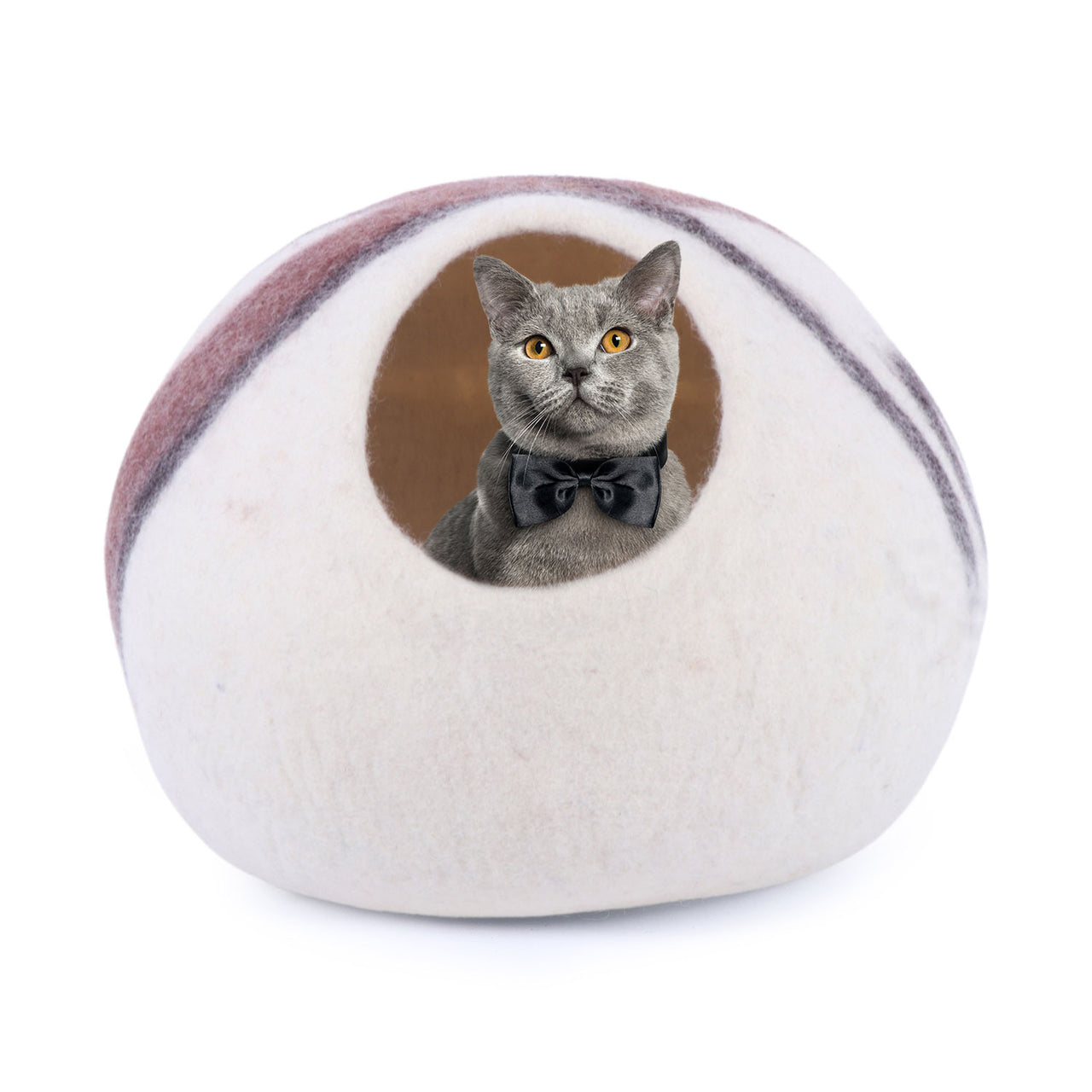 Description Care Instruction
Seeing the name, you have probably guessed it from the gate that the product is absolutely for the cat. Yes, it is.  To a pet with cute and lovely characteristics, why not we offer a cute and secure space?
Flannel solid bright pink with white and orange stripes gives perfectly a head turning appearance to the felt cat house. You are not only offering your dearest cat a private, snuggly place but also enhancing a beauty of your entire area with a distinct product.
Benefits:
Crafted with love: Felt cat house from Felt and wool is handcrafted in Nepal with pure nz wool especially by the women with love. The use of colours and the patterns made reflects their skill adding the extra touch of beauty.
Warm and pleasant: Semi-closed nature of wool felt cat cave bed makes it warm and pleasant. Thermal insulating property of felt cat bed and proper thickness given makes it comfortable and soft.
Fits everywhere: Whether it's your home or the working place, wool felt cat house fits everywhere. Round shaped cat house with bright and appealing colours helps enhancing any area it's placed in.
Light weighted: Even though wool cat cave is a felted product, it is light and can be carried easily. Light weighted nature adds extra benefit as one can easily shift it without taking the help of others.
Cost effective: Felt and wool manufactures handmade wool cat cave that seems to be cost effective. You don't have to regret buying felt cat house as it is durable, properly thickened, comfortable and decorative item making it cost effective.
Felt and wool, a company that not only produces but provides whether it's a quality product to the customer or an employment opportunity to the local people of Nepal, presents you handcrafted wool felt cat cave. We care about you and your core needs. In the same way, show your intense love and care to your lovely cat with our felt cat house.
Care instructions:
 As our cat caves are made from highest quality wool, they are easy to clean as well as to take care of. Without any worries, you can simply clean the felt cat house at home yourself.
Follow these following steps to take care of the product:
Shake well to remove dust particles or debris from inside.
Spot clean with a damp cloth or hands using cool water.
Not advisable to leave in wet places (Use soapy water gently for quick fixes).
Use of vacuum is recommended.
Dry cleaning is also possible but better to use the gentle cycle.
Hand made with love
Hand crafted with love from Nepal
Worldwide free shipping
FREE & FAST global shipping* on all orders
24 Hour Support Available