Flowery Wool Felt Cat Cave/Premium Felt Cat Cave/Felt Cat House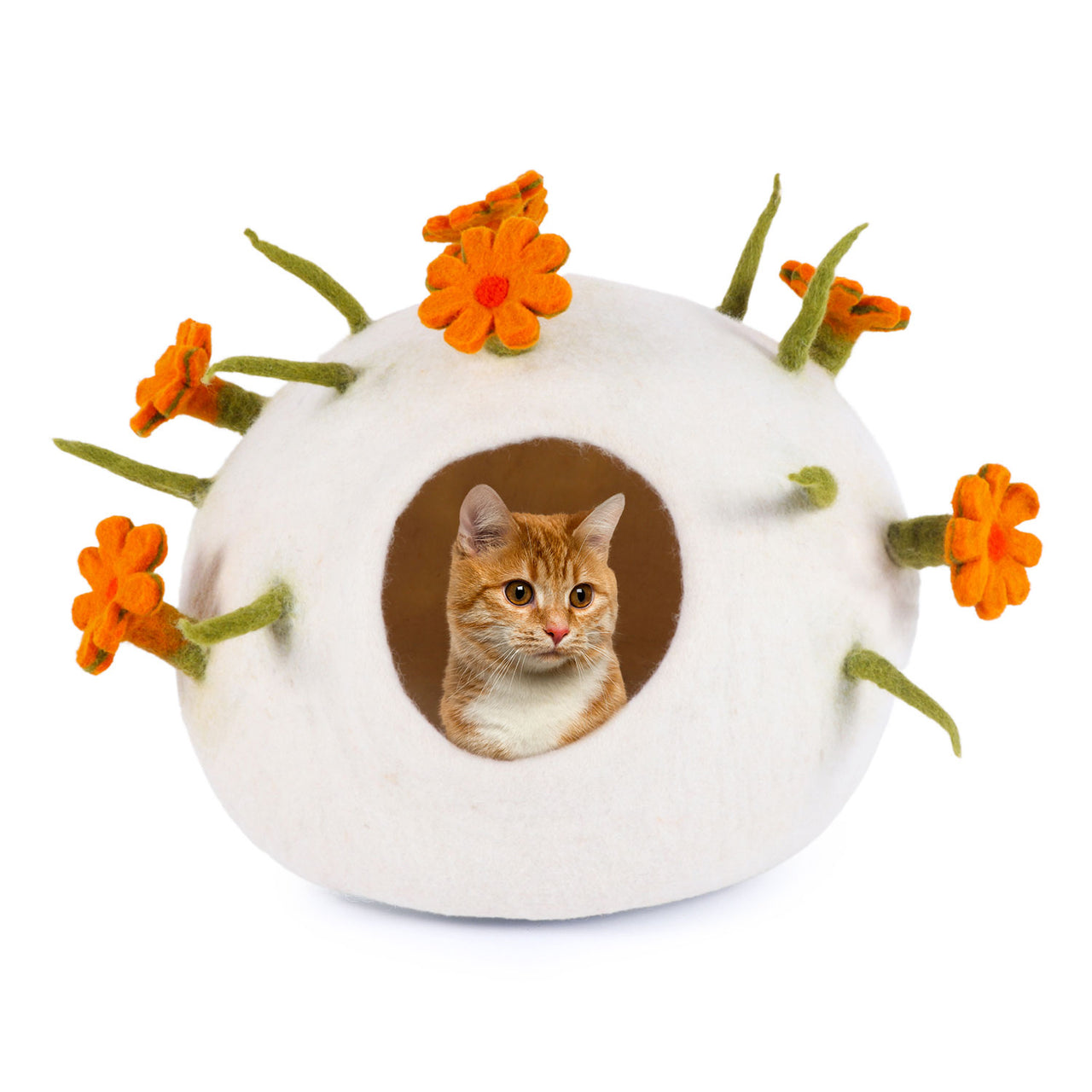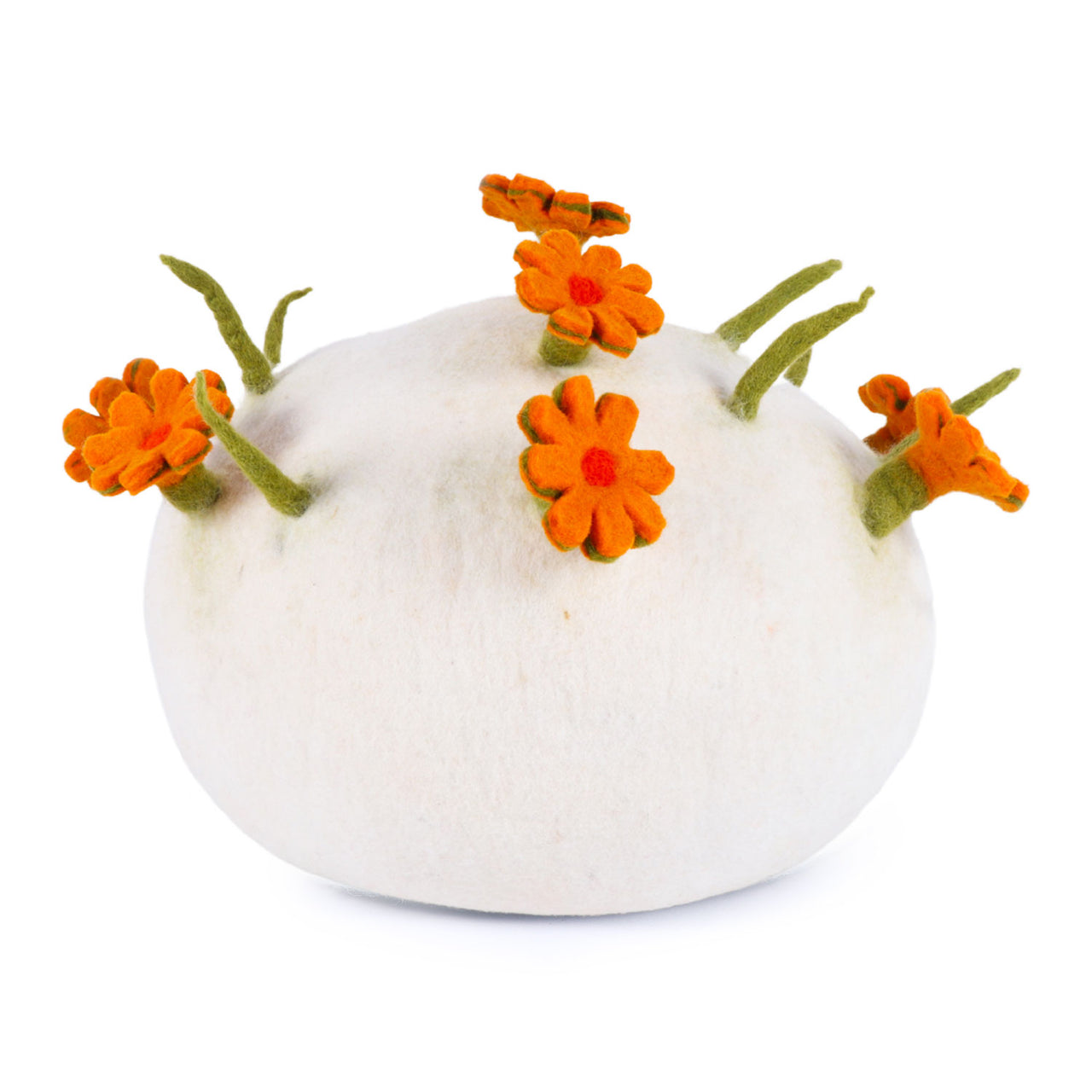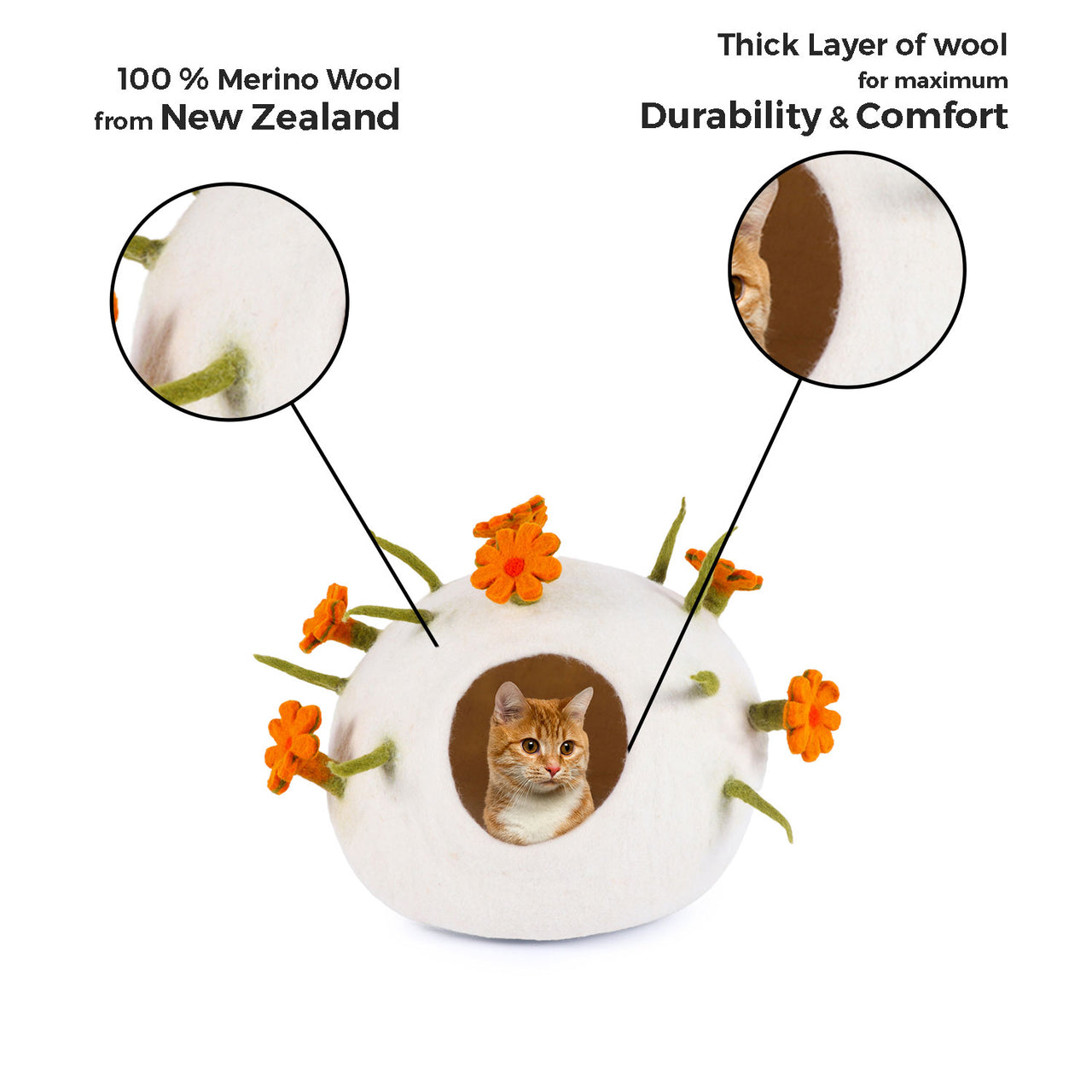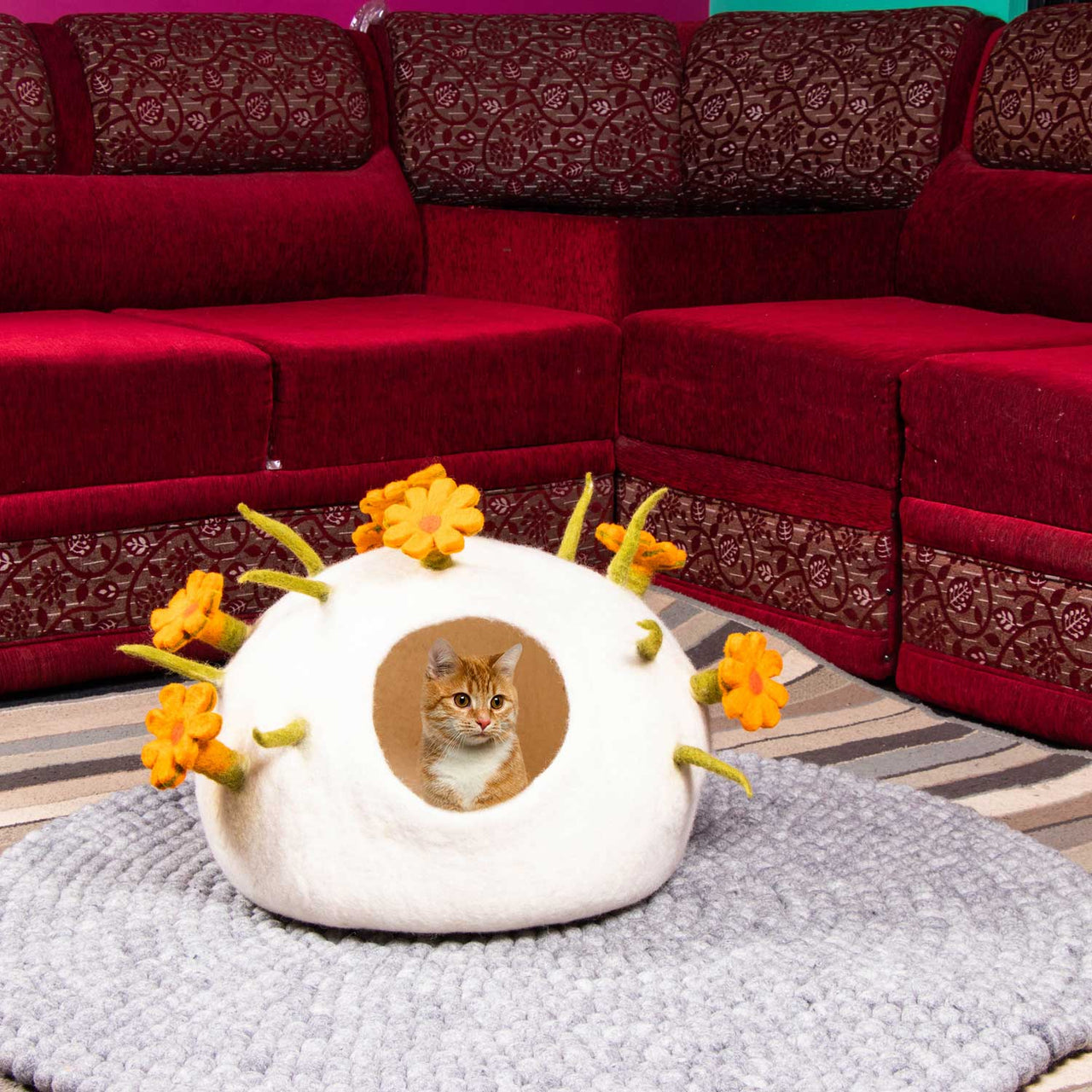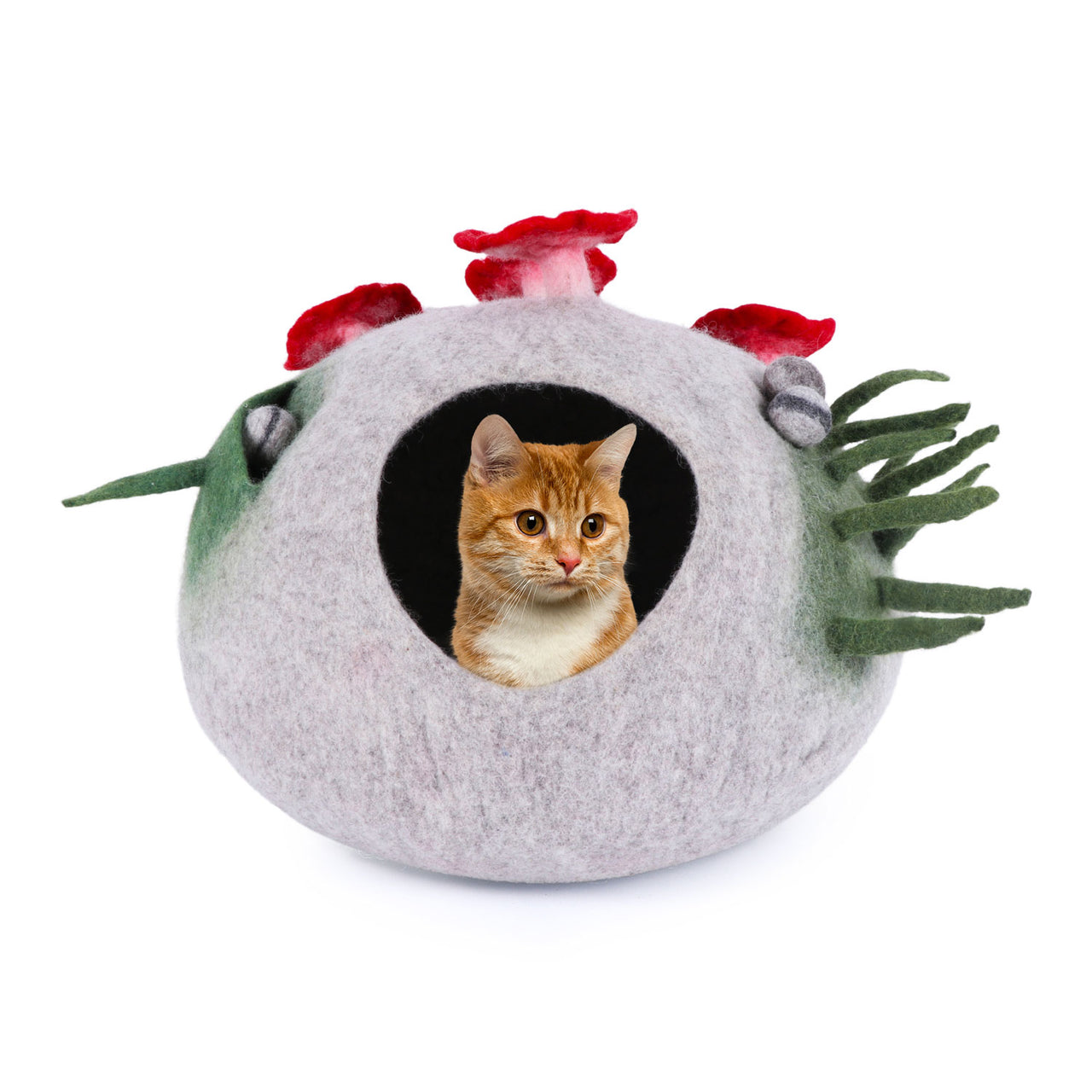 Description Care Instruction
Flowery wool felt cat cave, sounds mesmerizing! Cats like flowers a lot. Their same love goes for the enclosed spaces. Combining the both, surely they will cherish wool felt flowery cat house.
Designed with flowers on the top, handmade wool cat cave draws everyone's attentiveness. Apart from that, in consideration of the box loving behavior of the cat, Felt and wool presents a perfect place as per their need.
Benefits:                               
Variable sizes: Felted wool cat cave bed is available in variable sizes. Small, medium or large; any size you require can be presented to you. Offer your cat a comfortably fitting felt cat bed as per their size.
Box like structure: Semi-closed nature of wool felt cat house resembles box like structure that your cat adores. Semi-closed nature helps reducing the stress and offers safe zone to your cat.
Fascinating design: Uniquely designed cat house from Felt and wool is fascinating. Flowers on the top of the wool felt cat cave makes it an attention seeker that no one could resists.
Easy to clean: Use hands to clean with cool water. You can spot clean as well. It's simple and an effective way for the cleanliness of felt cat house retaining its quality.
Suitable everywhere: Either your home or working place, wool cat cave bed is suitable everywhere. On top of that, it can be carried easily due to its light weight.
Smart creature deserves a smart and alluring flowery cat cave. Together with maximum benefits, felt cat house comes up with comfort providing warm and secure space for your cat raising its happiness.
Care instructions:
 As our cat caves are made from highest quality wool, they are easy to clean as well as to take care of. Without any worries, you can simply clean the felt cat house at home yourself.
Follow these following steps to take care of the product:
Shake well to remove dust particles or debris from inside.
Spot clean with a damp cloth or hands using cool water.
Not advisable to leave in wet places (Use soapy water gently for quick fixes).
Use of vacuum is recommended.
Dry cleaning is also possible but better to use the gentle cycle.
Hand made with love
Hand crafted with love from Nepal
Worldwide free shipping
FREE & FAST global shipping* on all orders
24 Hour Support Available