Super Absorbent Coaster for Drinks, Scratch Free, Self Drying, Multicolor, Handmade, Dense Absorbent Natural Wool Decoration.
Select package
4 piece
8 piece
16 piece
Felt ball size
1 cm
2 cm
2.5 cm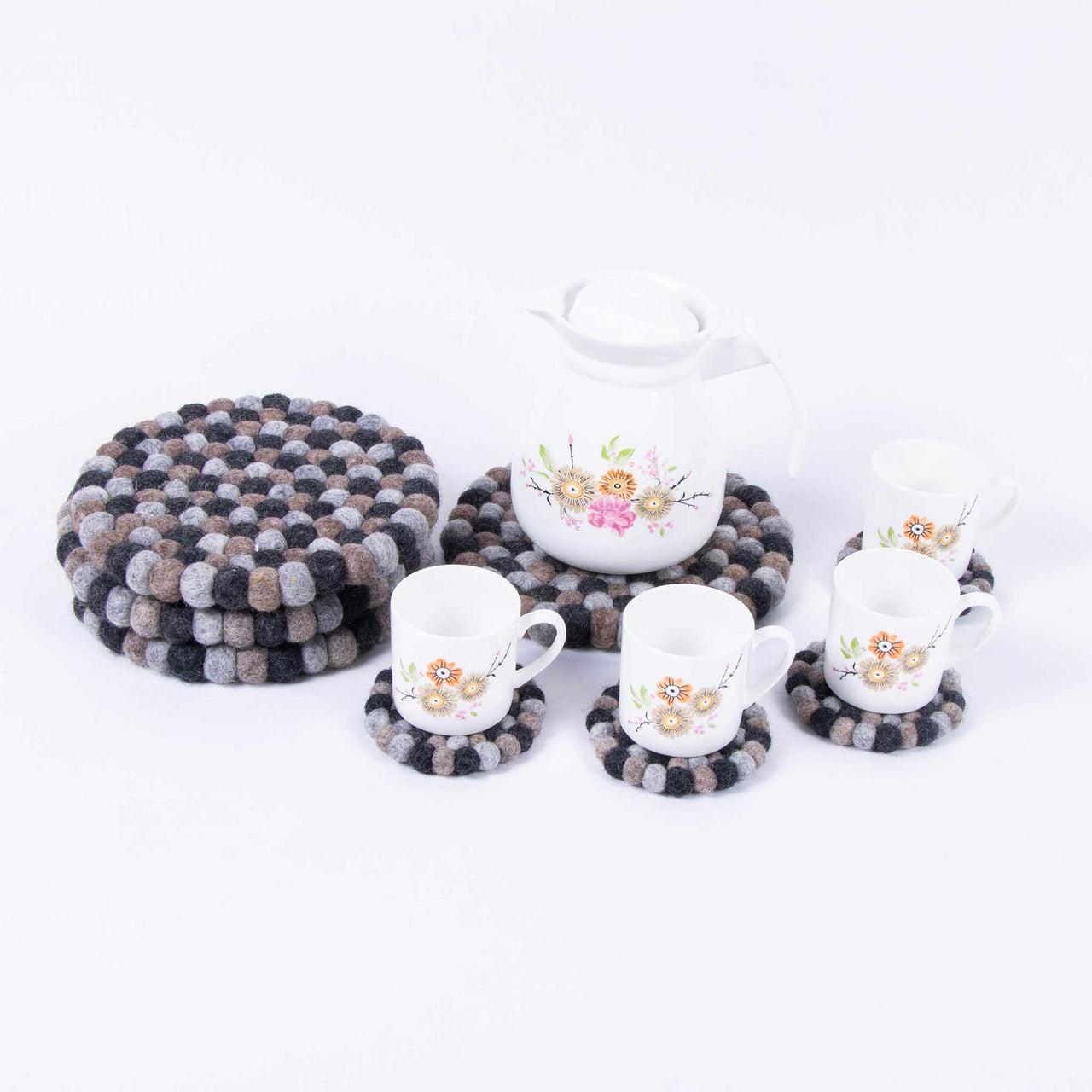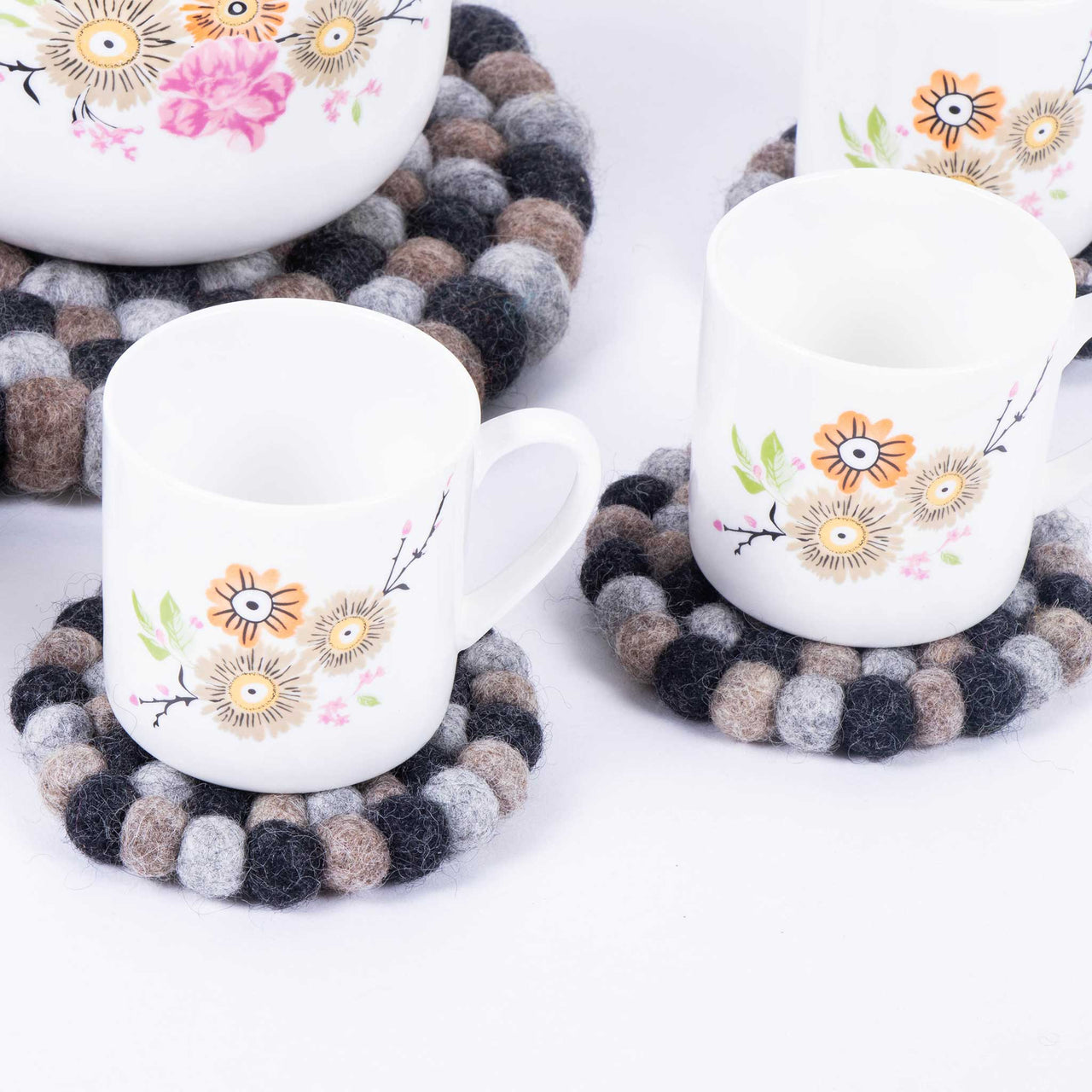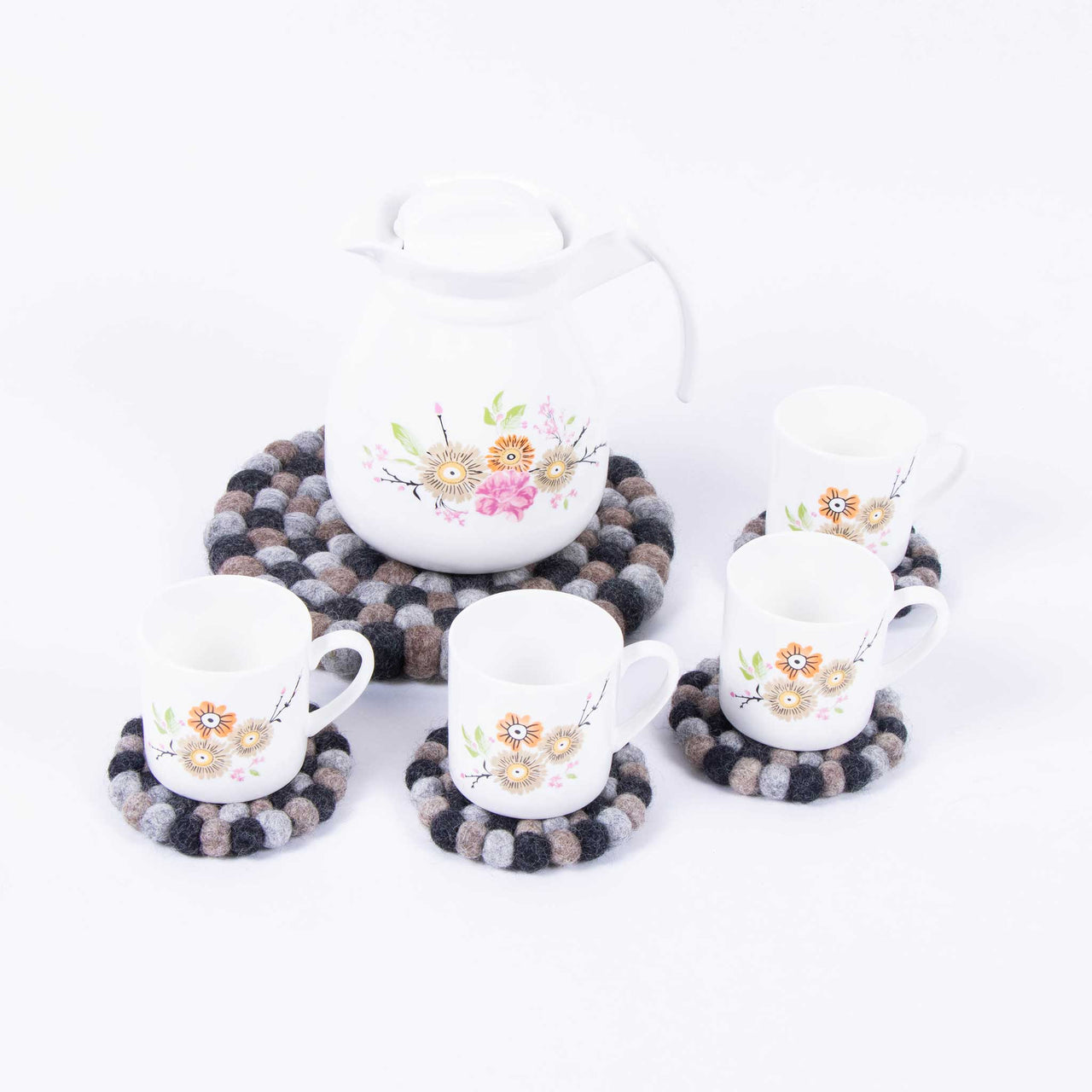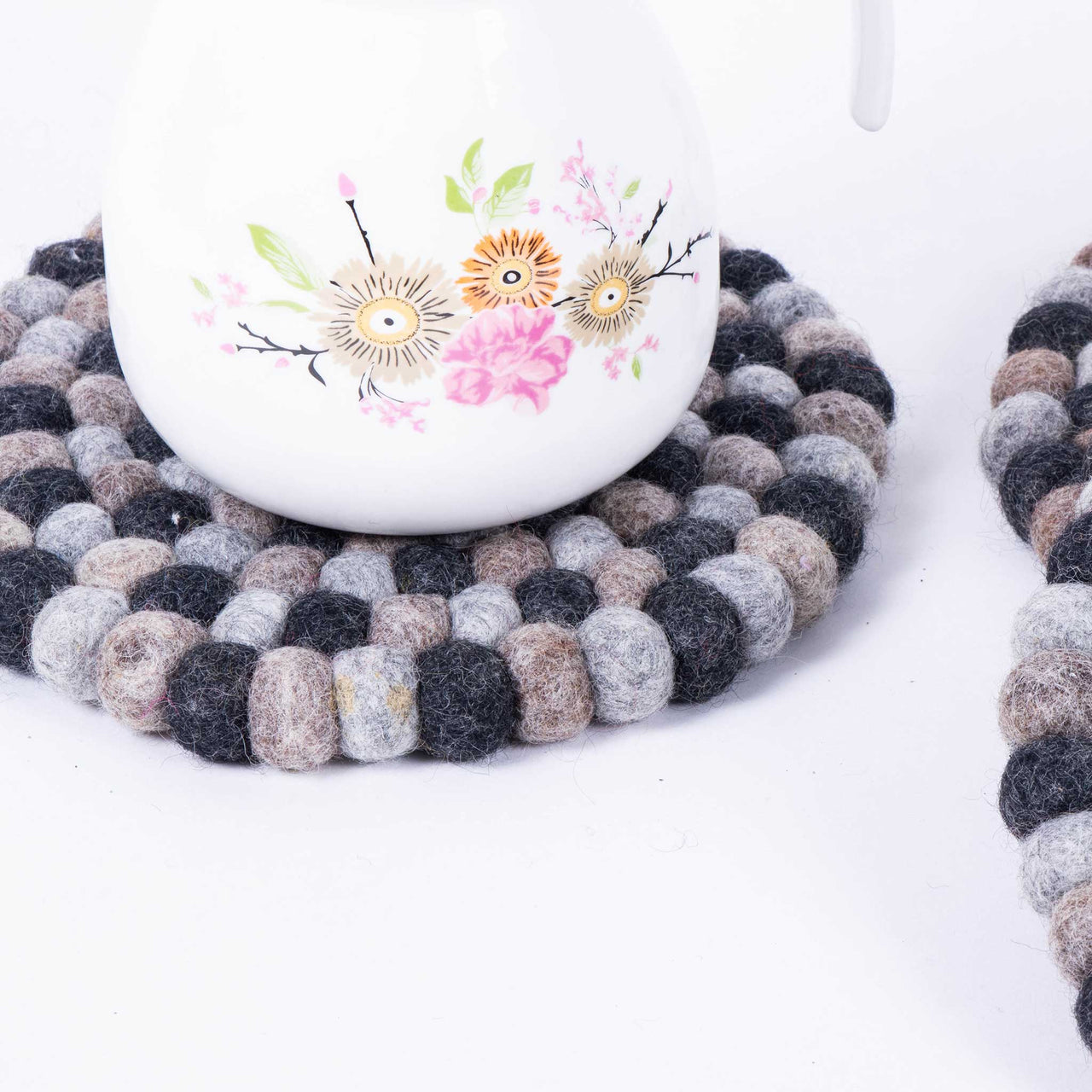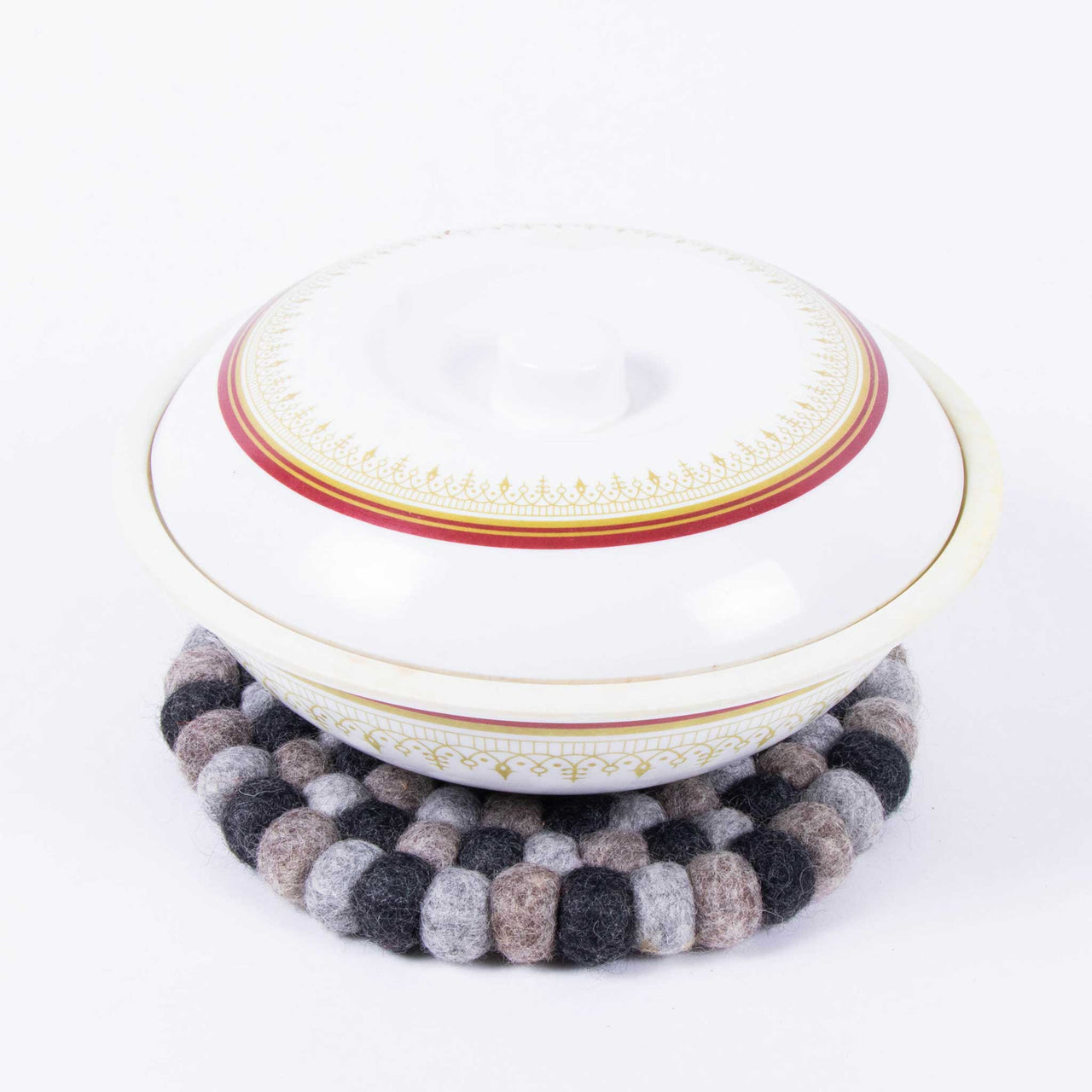 Description Care Instruction
Home, a place that provides us with a centering definitely needs to be taken care of.  Add elements to your home that will calm your space and soothe your soul. Wool felt trivet set from Felt and wool helps in adding a creative touch to your dishes, plant pots as well as the treasures.
Provide a warm, textural note to the kitchen, dining room or other area of your choice. Felt trivet pads not only protects and decorates, but reflects your creative choice.
Benefits:
Natural: Felt trivet is a natural product that is hand stitched using wool felt balls. The used wool is non-toxic, non-allergic and azo free in nature. As it is made by human hands, it lacks every kind of chemicals that makes it 100% pure.
Harmless: In fact, felt trivet set is anti-microbial in nature. Therefore, it resists harmful bacteria or organisms to spread and cause diseases. Such nature makes the hot dishes holder a harmless product.
Easily moveable: Because of the light nature, the wool felt trivet can be moved easily. You can place it in the dining room, kitchen or under the plant pot or moved to other area without any difficulty.
Economical: Felt trivet pad is made from the best trivet material i.e. wool which lasts long. In addition to that, wool felt trivet can be used on both sides that reduce the repetitive purchase of the same product. Hence, felt trivet seems economical too.
Premium quality: Felt balls that are used for the felt trivet are manufactured using pure merino wool. Along with that, properly manufactured felt balls help providing the felt trivet a proper shape and texture. Therefore, such nature makes the trivet of best quality.                                                                                                                Glorify your home purchasing natural colour mixed wool felt trivet set. The felt trivet made with selective colour balls definitely gives a sophisticated look. Together with that, felt trivet round fits everywhere during family meals or holiday gatherings offering eye catching beauty.
Here is the list that helps you, providing proper care instruction for the felt ball trivet:
Hand wash or dry clean is recommended during the cleaning process of felt trivet.
Do not wash on the machine or natural oils as the wools will be removed.
As colours of felt balls used in the felt ball trivet are of azo free dyes, it can be fade with strong sunlight.
Do not soak and rub balls of the trivet aggressively. It reduces the durability of the trivet making it look vulnerable.
In order to remove dirt from the felt ball trivet, let it dry and gently brush it off. You can simply dab the felt balls until the stain is removed.
Do not leave it in the wet areas. Together with that, wipe off the liquid as soon as possible if it gets spilled over wool felt trivet.
Hand made with love
Hand crafted with love from Nepal
Worldwide free shipping
FREE & FAST global shipping* on all orders
24 Hour Support Available