Felt Ball Trivet Handmade Felt Wool Ball Trivet for Hot Dishes - Hot Pads for Pots and Pans
Felt ball size
1 cm
2 cm
2.5 cm
Select package size
4 Piece
6 Piece
10 Piece
20 Piece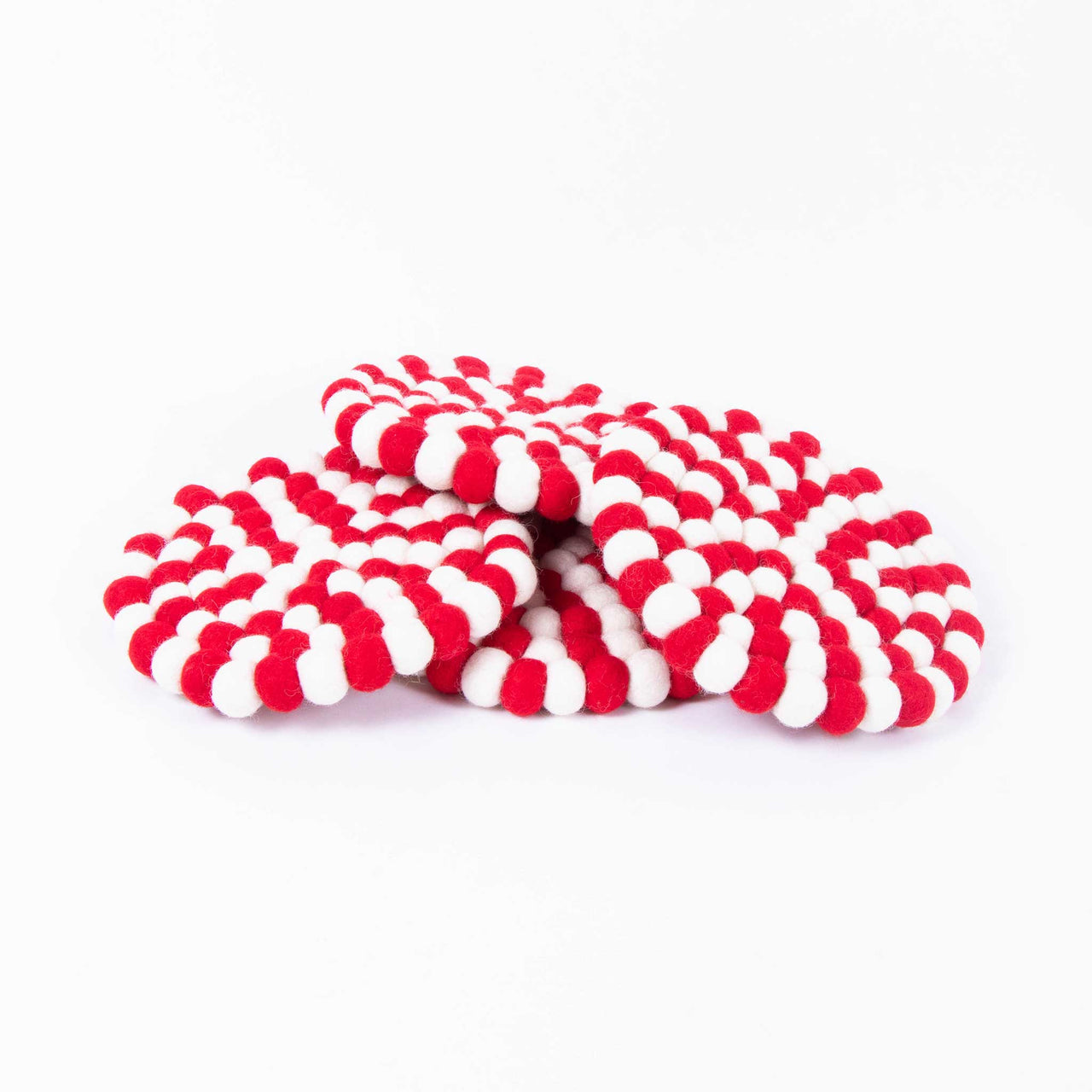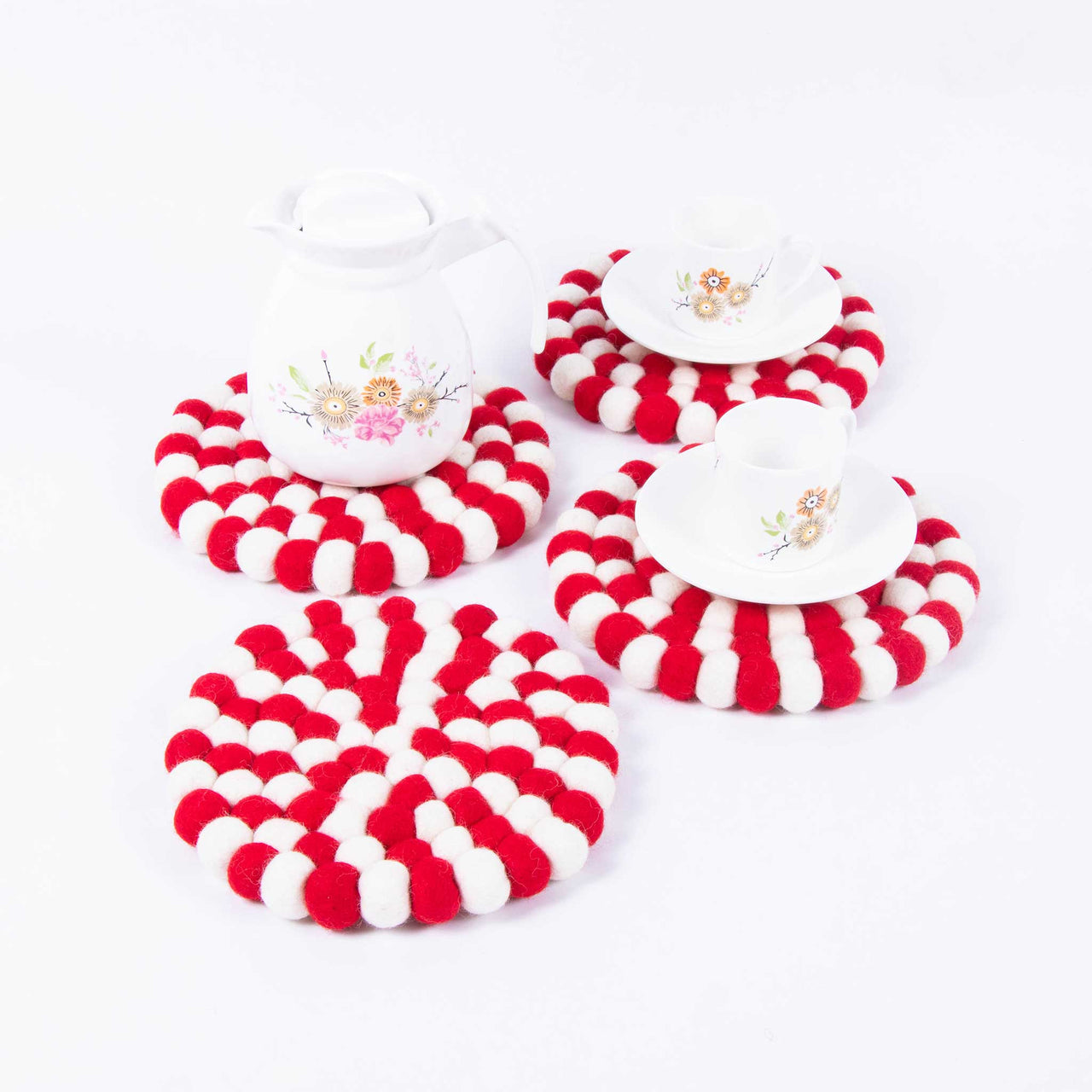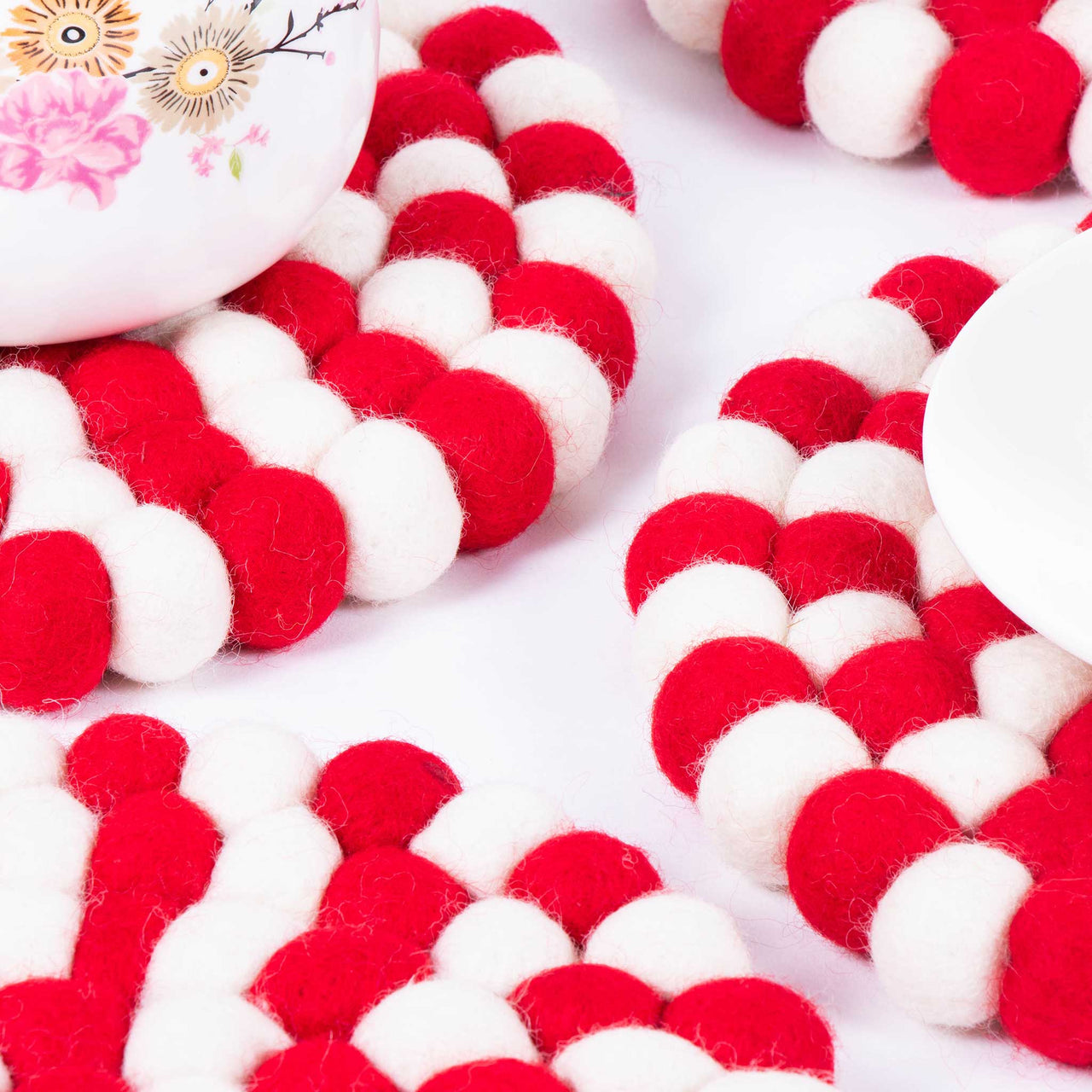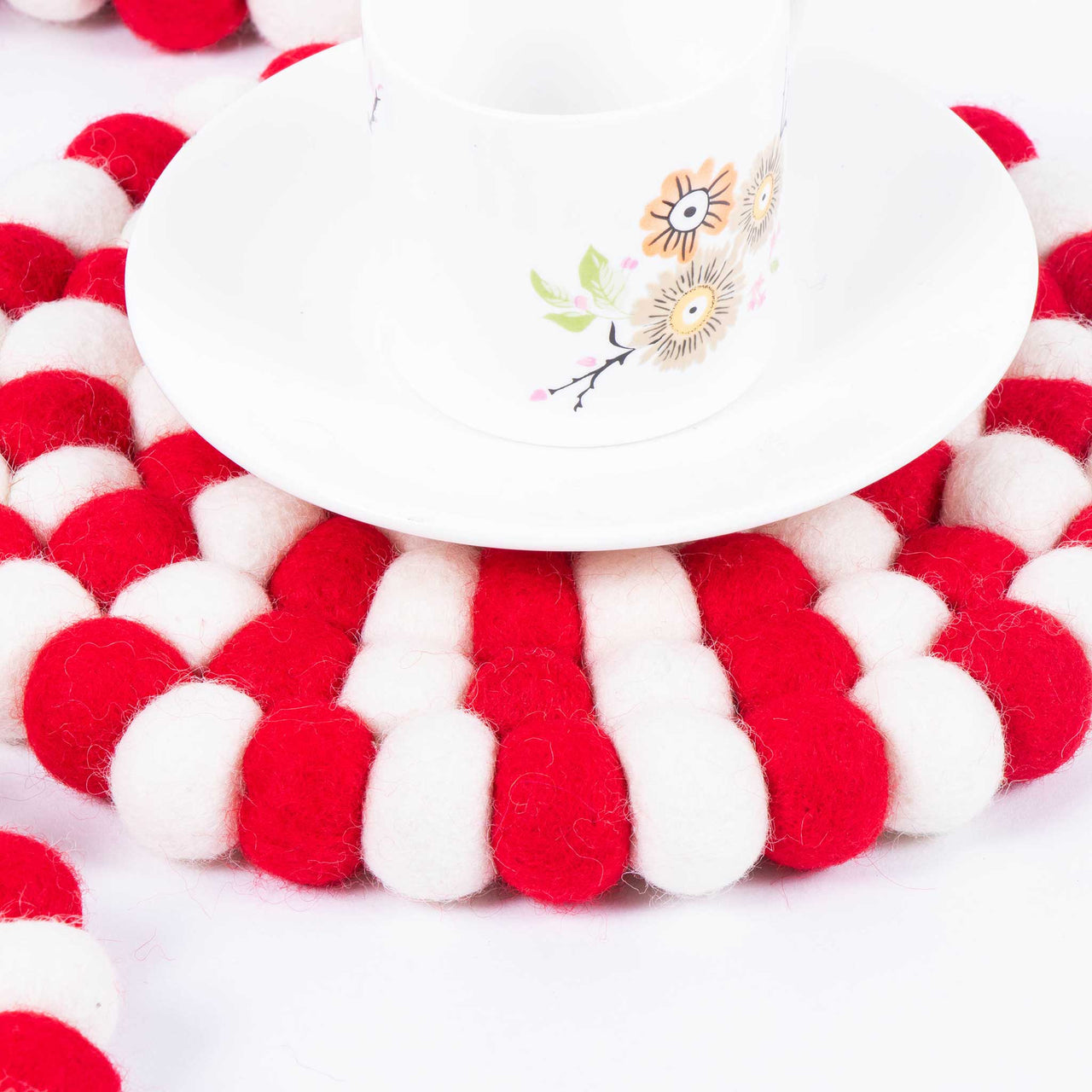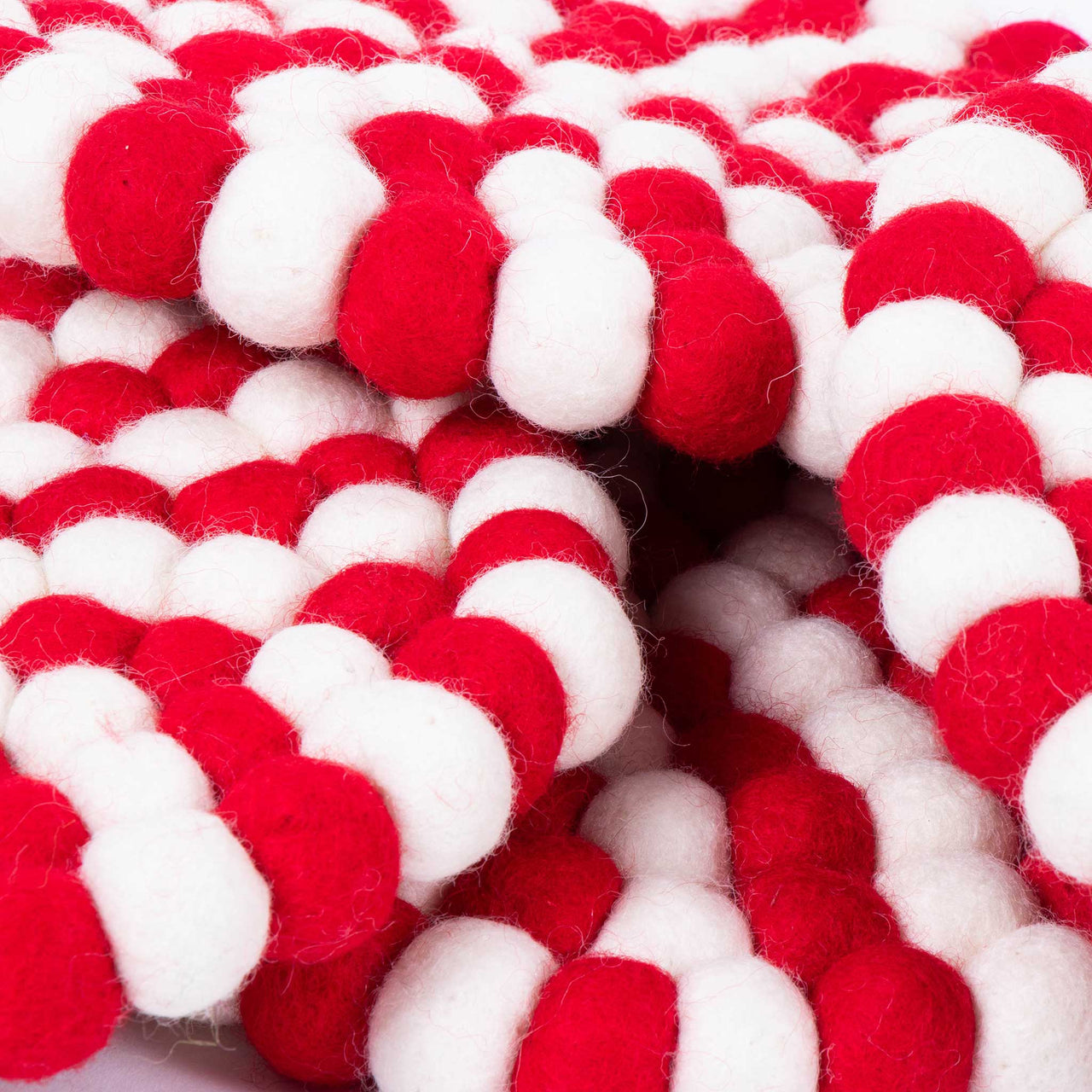 Description Care Instruction
Considering your needs, we provide you the trivet full of enchantment that will catch the eye of almost everyone out there. Protect along with decorating your table using handmade felt ball trivet that is produced using natural wool. With a peaceful colour white and the colour of fire red, the hot dishes trivet comes up with the best.
Benefits
Protection: Being an object commonly placed between the serving dish and a dining table, wool felt trivet provides full protection from the stain, scratches and water rings that your table may suffer from.
Design and texture: Along with the protection, you can have a trivet of unique design and texture that can rarely be seen elsewhere. Colour combo including red and white colour one after another itself seems fascinating.
Extra decor: Not only the protection, it adds extra decor wherever it is placed. From the kitchen of your home to the kitchen of your office, hot dishes mat fits anywhere with grace.
Eco-friendly: Non-toxic, non-allergic and azo free nature makes the felt wool trivet eco-friendly. Handcrafted from pure New Zealand wool, you can get used to the felt trivet pads without worrying about the safety of your health.
Serving tool: What could be so good than having a serving tool that not only go through the purpose but adds extra colour and beauty to your home or working place? Serve with honour influencing your best choice in the market of hot dishes pad.
 Wow everyone using our felt ball trivet. It's not only beneficial in the kitchen or meal time during family gatherings but also can be useful for flower pot or anywhere you like. Add creativity to your kitchen or dining hall from handmade felt trivet set. One can easily get rid of stains or scratch with the hand woven, resilient nature hot dishes holder from Felt and wool.
Here is the list that helps you, providing proper care instruction for the felt ball trivet:
Hand wash or dry clean is recommended during the cleaning process of felt trivet.
Do not wash on the machine or natural oils as the wools will be removed.
As colours of felt balls used in the felt ball trivet are of azo free dyes, it can be fade with strong sunlight.
Do not soak and rub balls of the trivet aggressively. It reduces the durability of the trivet making it look vulnerable.
In order to remove dirt from the felt ball trivet, let it dry and gently brush it off. You can simply dab the felt balls until the stain is removed.
Do not leave it in the wet areas. Together with that, wipe off the liquid as soon as possible if it gets spilled over wool felt trivet.
Hand made with love
Hand crafted with love from Nepal
Worldwide free shipping
FREE & FAST global shipping* on all orders
24 Hour Support Available