Mushroom designed felt slippers
Size
36
37
38
39
40
41
42
43
44
45
46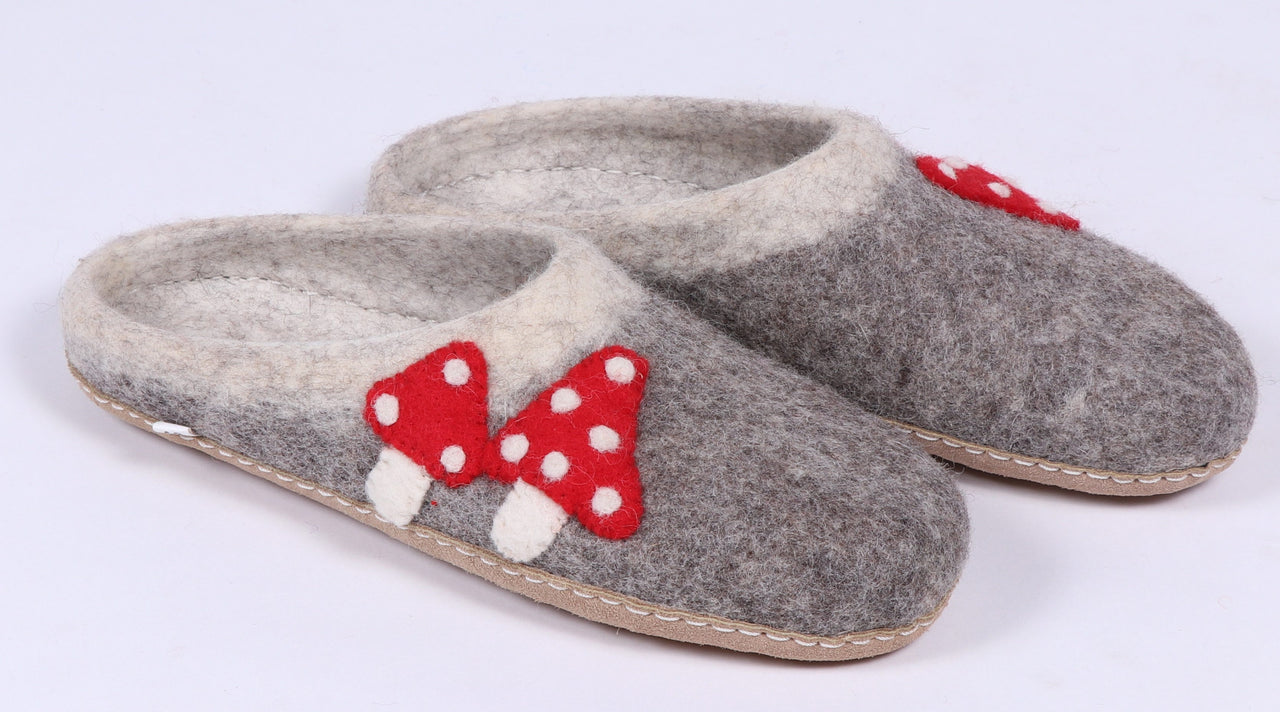 Description
Care Instruction
Size
Intended to be worn indoors, especially at home, the slippers should be comfortable and useful. Possessing almost every benefits that the slippers should have, wool felt slippers comes at the top.
Adorable surfacing with protective and comfortable nature makes felted slippers most loveable. The natural coloured mushroom felted slippers are one of the most demanded wool felted items.
Benefits:
Made with hands

Felt slippers are made with hands using merino wool from New Zealand. It is non-toxic, non-allergic and of azo-free dyes.
Adorable

The natural coloured wool felt slippers is a unique product with pretty mushroom design. It is soft, protective and adorable at the same time.
Comfy

Comfort is what we need from our foot wears. Keeping that in mind, handmade felt slippers are made with top quality merino wool. Due to this, the slipper is light and comfy.
Easily cleaned

 Cleaning of felt slippers is in fact an easy task. For dust and debris you can use vacuum cleaner. You can also hand wash it with cold water or spot clean it.
Economical

 It is awesome to get the beneficial product at the budget price. Same goes for the felted wool slippers. The slipper comes up with top quality at reasonable price. It is in fact an economical product you won't regret buying.
Mushroom felted wool slippers are distinct in appearance. It is a uniquely designed item that is natural and functional. The use of natural colour in the slippers makes it more noticeable and eye catching. It can also be a great item that warmly welcomes the guests.
Care instructions for footwear (slippers, shoes and boots)
Follow these following steps to take care of the felt foot wears:
Shake well to remove dust particles or debris from inside.
Spot clean the footwear with a damp cloth or hands using cool water.
Not advisable to leave in wet places.
Use soapy water gently for quick fixes.
Use of vacuum is recommended.
Dry cleaning is also possible but better to use the gentle cycle.
Wash with hands as hand washing is the best way of cleaning wool felted products.
Hand made with love
Hand crafted with love from Nepal
Worldwide free shipping
FREE & FAST global shipping* on all orders
24 Hour Support Available