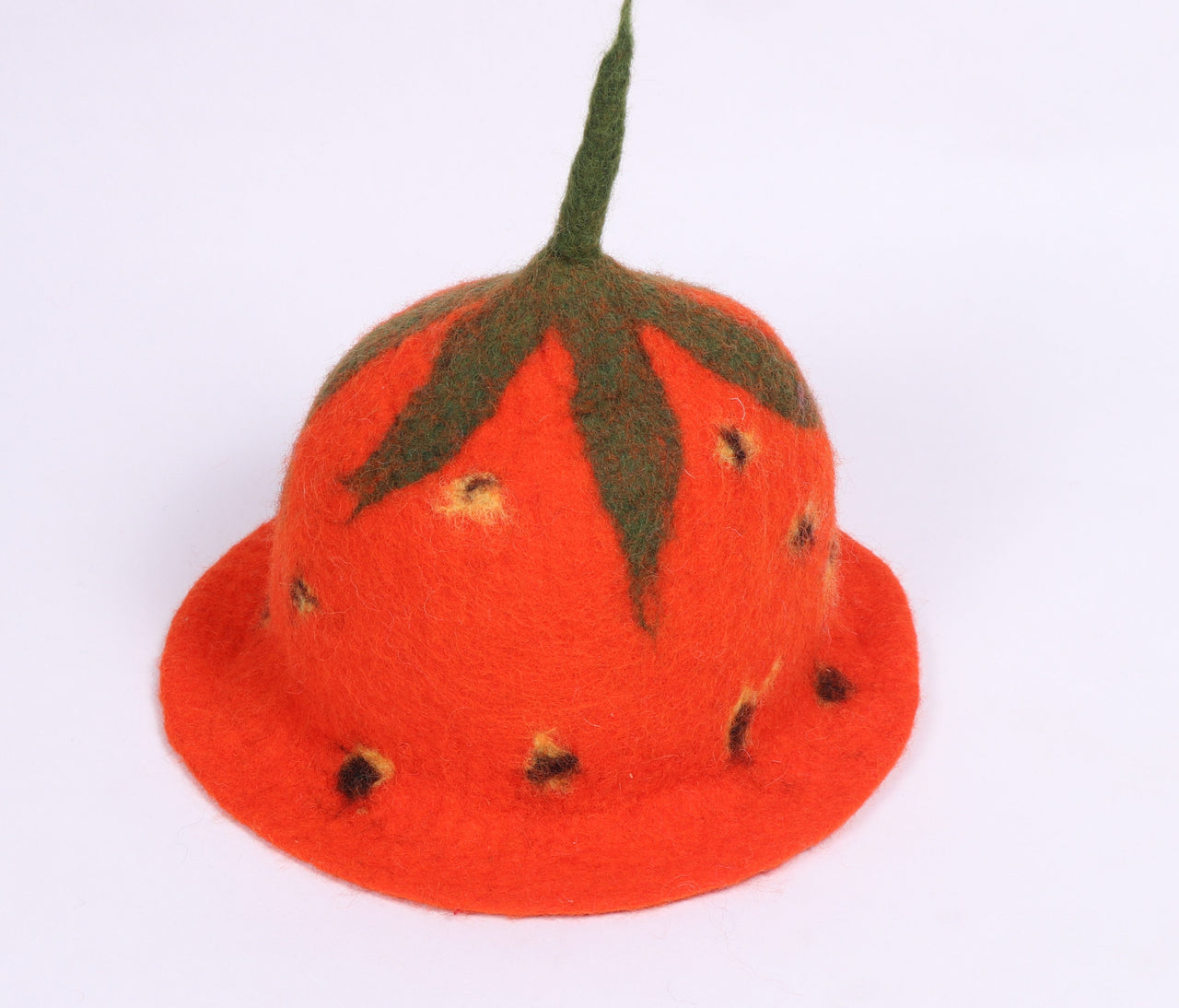 Description
Care Instruction
Size
Felted hats are easy to wear, comfortable and simple. It is designed perfectly that you can wear it in any place and any time. The 100% natural wool used in them makes them sturdy and long-life lasting product which not only looks good but also provides high comfort level to the person wearing the hat.
Well-crafted and made with care, this hat will fit into any formal outfit and make you look your best.
Here below are some benefits of merino wool felted hats:
Appealing design: Orange color with unique and creative look provides this hat an appealing design that no one could resist. It is attractive and suitable wool felt accessory without any doubt.
Environmentally friendly: Non-toxic, non-allergic and azo free dyes are used for the manufacturing of this wool felted hat which is why it is harmless. Such nature of the product makes it environmentally friendly.
Creative: The wool felt hats from Felt and wool are all handmade by local Nepali artisans, especially women. With the use of skills and knowledge, the hats are prepared. Due to this, it is creative and unique than the rest.
Qualitative: Felt hats are made with top quality merino wool that is 100% natural and safe. In addition, it is made by hands with continuous checking procedures for assuring its quality. Due to which, the felt hat comes out being a qualitative product that's satisfying 100+ customers worldwide.
Economical: Hats from merino wool felts are all handmade which makes it more strong and sturdy in nature. Along with rest of the benefits, the felted hats are economical and long lasting in nature.
When you wear a Felt and wool felt hat, you become part of our family. We pride ourselves on offering the most luxurious, natural and long lasting hats possible. Their high quality wool provides outstanding protection against cold and heat while their softness makes them an absolute pleasure to wear.
Care instructions
Here below are the instructions for you to clean and take proper care of the product:
Simply brush it off to remove dust or debris from it.
Clean by hands using cold water or spot clean it for better result. It will help retaining the quality of the product.
Do not leave in wet areas or strong sunlight for a long time.
Lay flat to dry if it gets any kind of wetness.
As wool felted product is easy to shape, you can give it a quick fix just by using soap and cool water.
Hand made with love
Hand crafted with love from Nepal
Worldwide free shipping
FREE & FAST global shipping* on all orders
24 Hour Support Available