Pink Color Round Felt Trivet
Select Packages
4 piece
8 piece
20 piece
Felt ball size
1 cm
2 cm
2.5 cm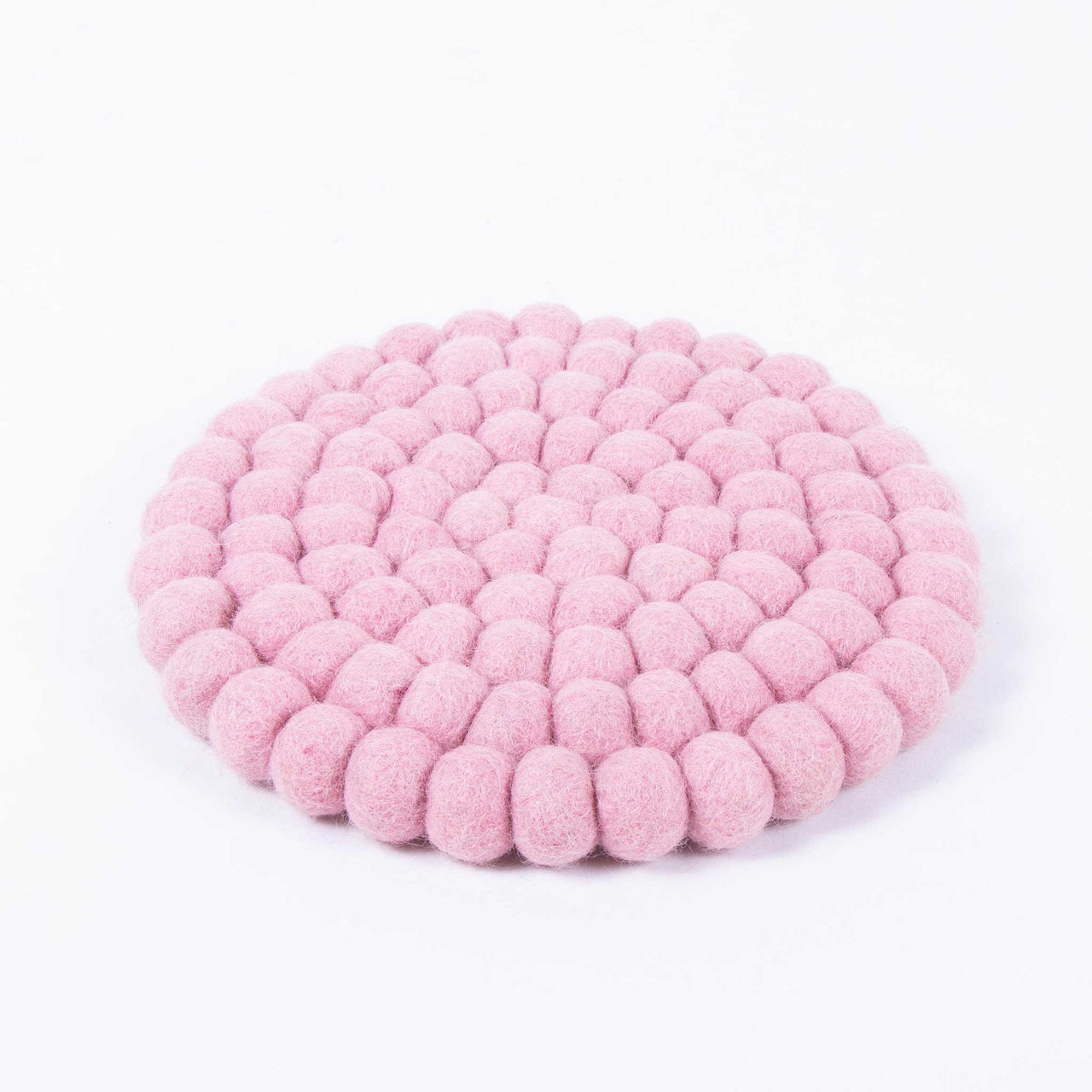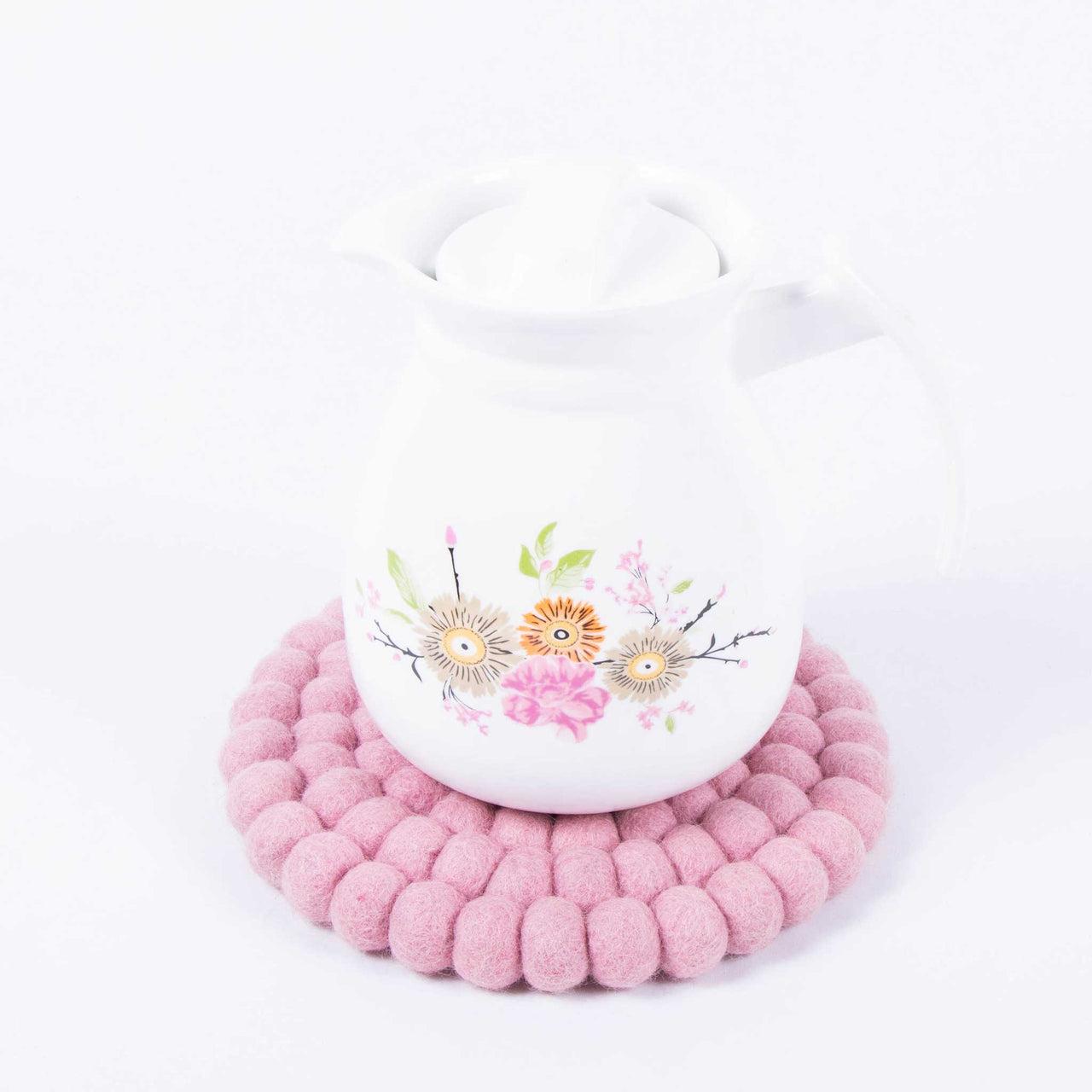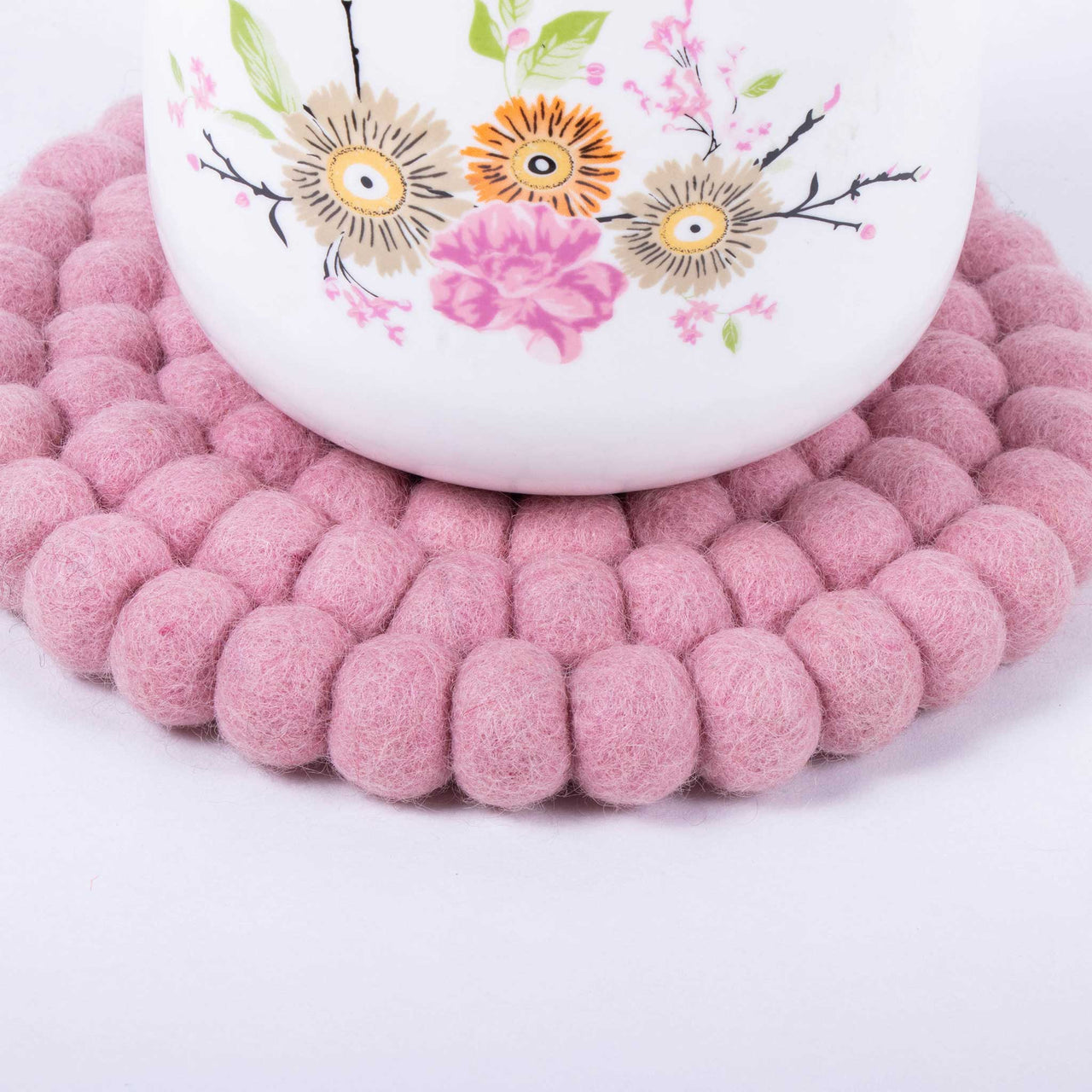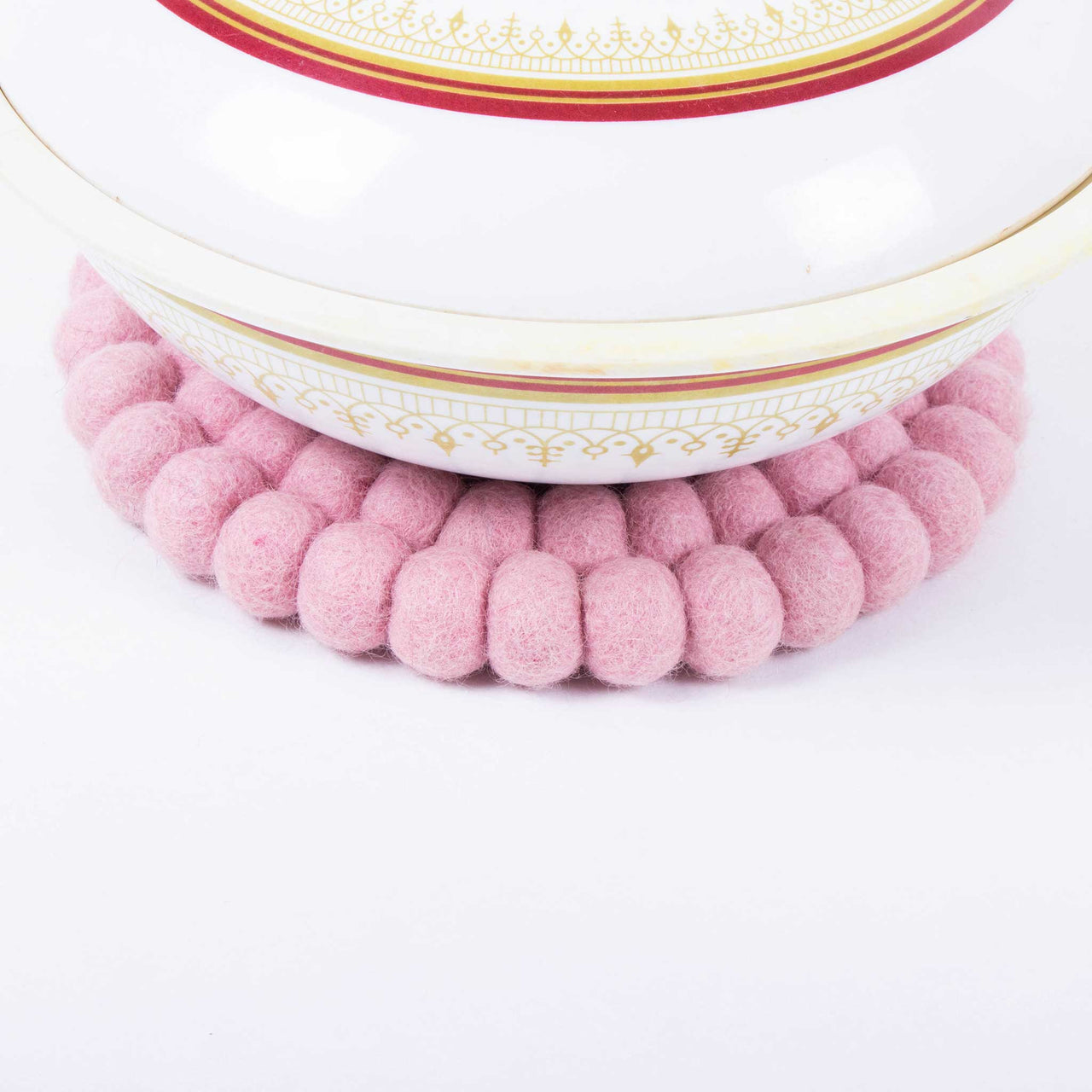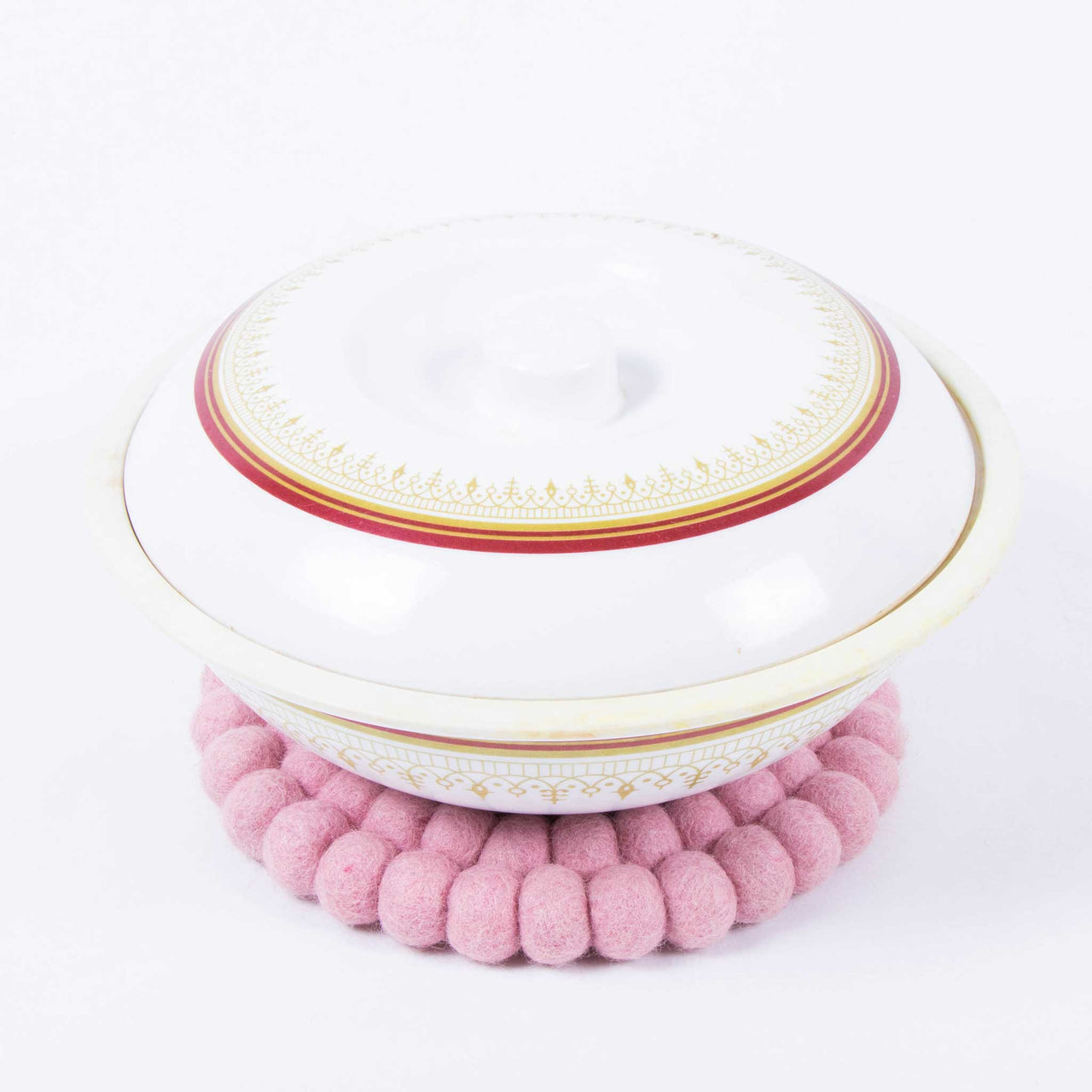 Description Care Instruction
Tired of water rings or scratches on the table? Now you don't have to be. Use hot dishes holder made from best trivet material that is felt. Felt being an awesome material is soft, durable and fashionable. Not only do felt round trivet protects your table or desk but also provides a unique and attractive look to your desired place.
Handcrafted products are itself a most desired and attention drawing products. Accompanied by that, pure New Zealand wool manufactured balls are used in this hot dishes trivet making it more creative and pure.
Benefits:                                                         
Meets core need: In consideration to the core need, Felt and wool offers our precious customers a felt trivet pad that is as special as you. Protect the table or desk from scratch and water rings along with heat burns. Simply use felt coaster set to serve the dishes catching the eye of everyone.
Cleaned easily: Being a felt product, one will surely get confused for the cleanliness of felt trivet. Or, can bear in mind the falsity regarding the cleanliness. It's not as hard as you think. Simply wash by hands using cool water. Just to remove dirt, gently brush it off.
Anti-microbial: There is no any kind of harm from the wool felt trivets as they are anti-microbial. In a simple word, felt trivet pads kill or slow the spread of microorganisms. Such nature adds extra point to the health benefits of you and your family.
Resilient: Wool felt trivets are made using 2 cm balls that are manufactured from 100% natural wool. As the product is hand woven, it further appreciates the resilient nature. Straightforwardly, it retains its shape or can be recovered quickly even if its bend.
Economical: Felt round trivet is in fact a serving tool used to serve hot dishes. Accompanied by that, felt ball trivet can be used for the protection of table or desk from stains, water rings or heat burns. Not only this, felt ball trivet from Felt and wool is of premium quality making it more economical.
 Sweet pink colour that is unique in look offers an excellent decoration to where so ever it's placed. Hot dishes felt trivet is useful from both sides. Moreover, not only just protecting your table, felt trivet keeps the food warmer.
 Fulfilling the purchasing need, wool felt trivet is such a product that increases the creativity as well as the charm of your home.
Here is the list that helps you, providing proper care instruction for the felt ball trivet:
Hand wash or dry clean is recommended during the cleaning process of felt trivet.
Do not wash on the machine or natural oils as the wools will be removed.
As colours of felt balls used in the felt ball trivet are of azo free dyes, it can be fade with strong sunlight.
Do not soak and rub balls of the trivet aggressively. It reduces the durability of the trivet making it look vulnerable.
In order to remove dirt from the felt ball trivet, let it dry and gently brush it off. You can simply dab the felt balls until the stain is removed.
Do not leave it in the wet areas. Together with that, wipe off the liquid as soon as possible if it gets spilled over wool felt trivet.
Hand made with love
Hand crafted with love from Nepal
Worldwide free shipping
FREE & FAST global shipping* on all orders
24 Hour Support Available