Round Shaped Multi Color Felt Ball Trivet
Select Package
4 Piece
8 Piece
16 piece
Felt Ball Size
1 cm
2 cm
2.5 cm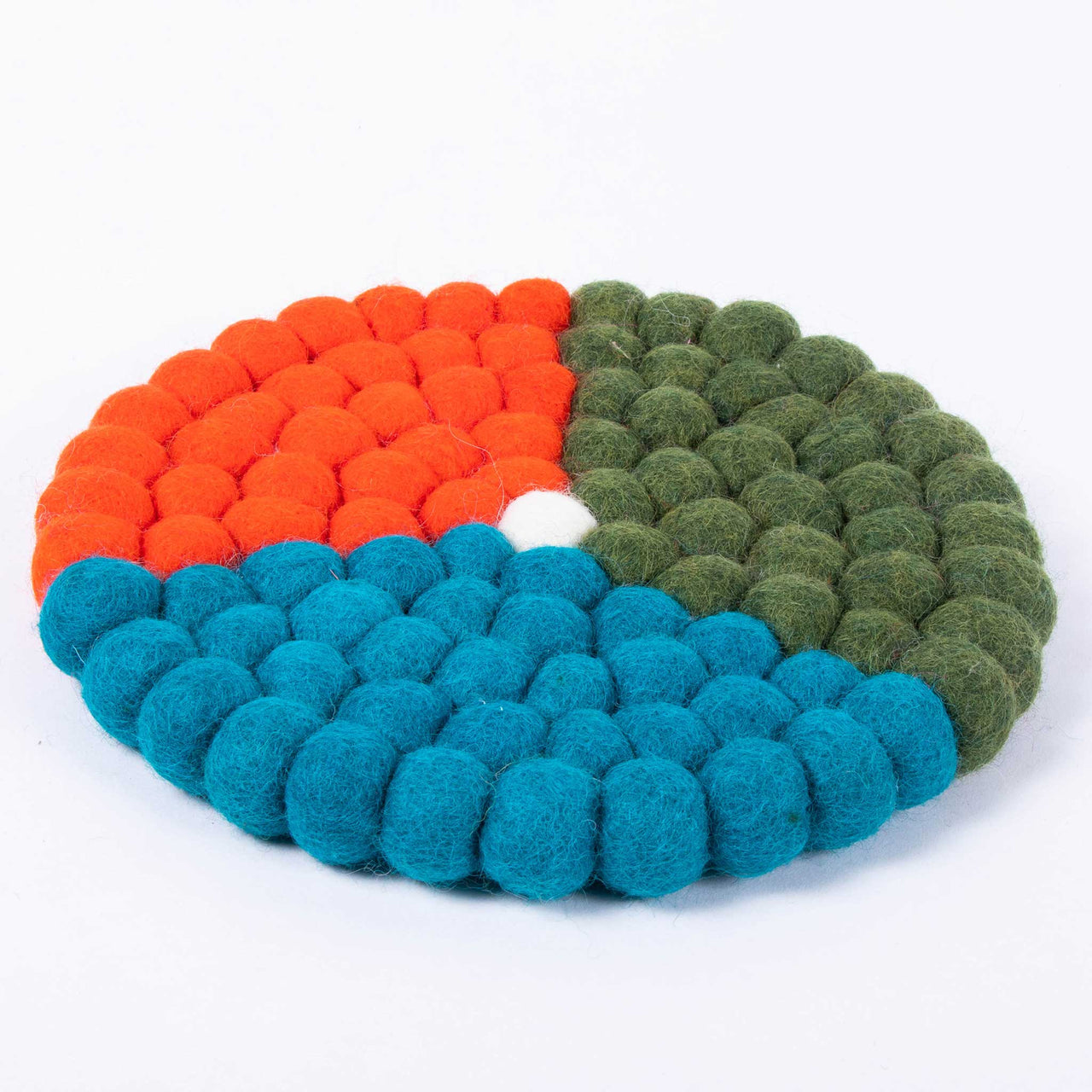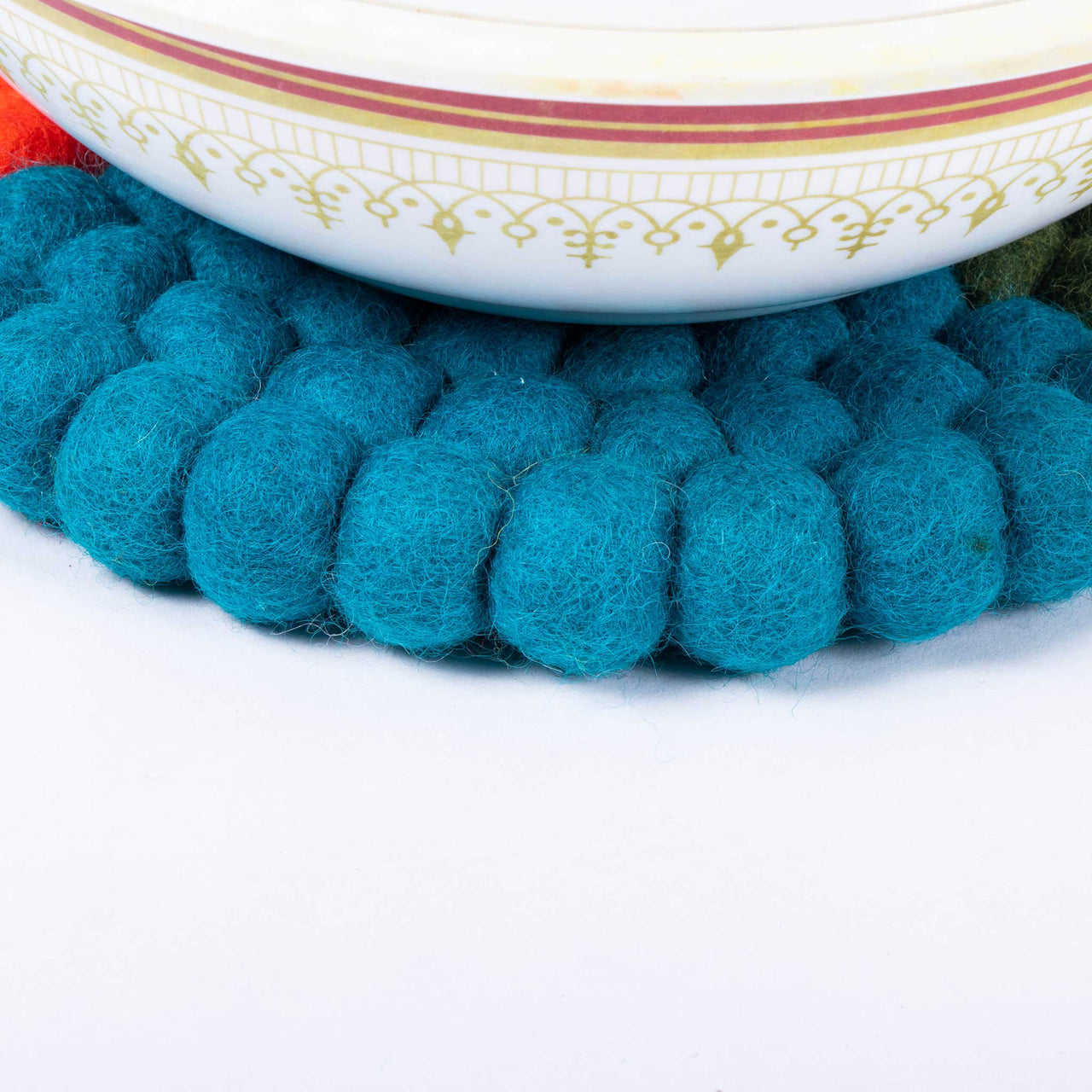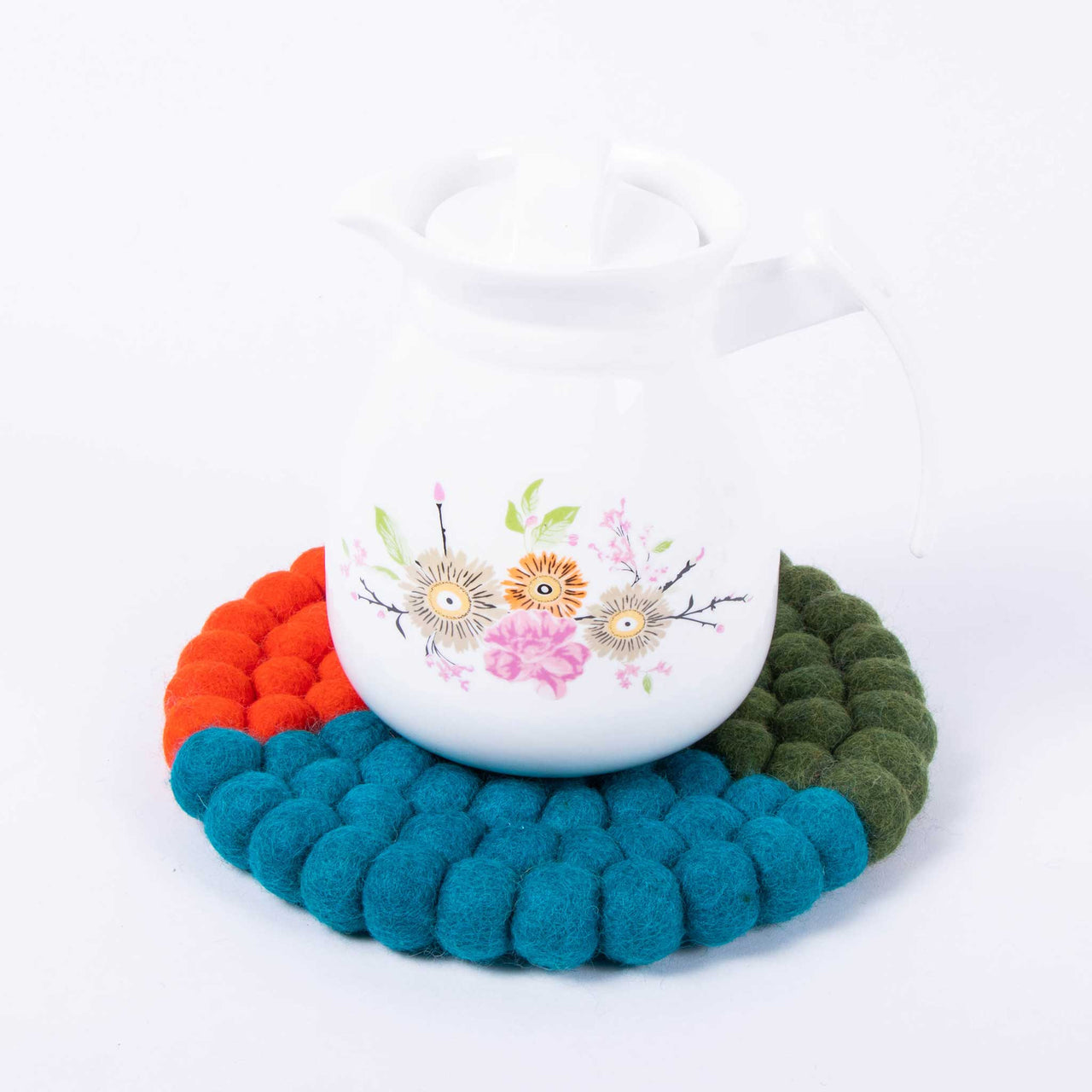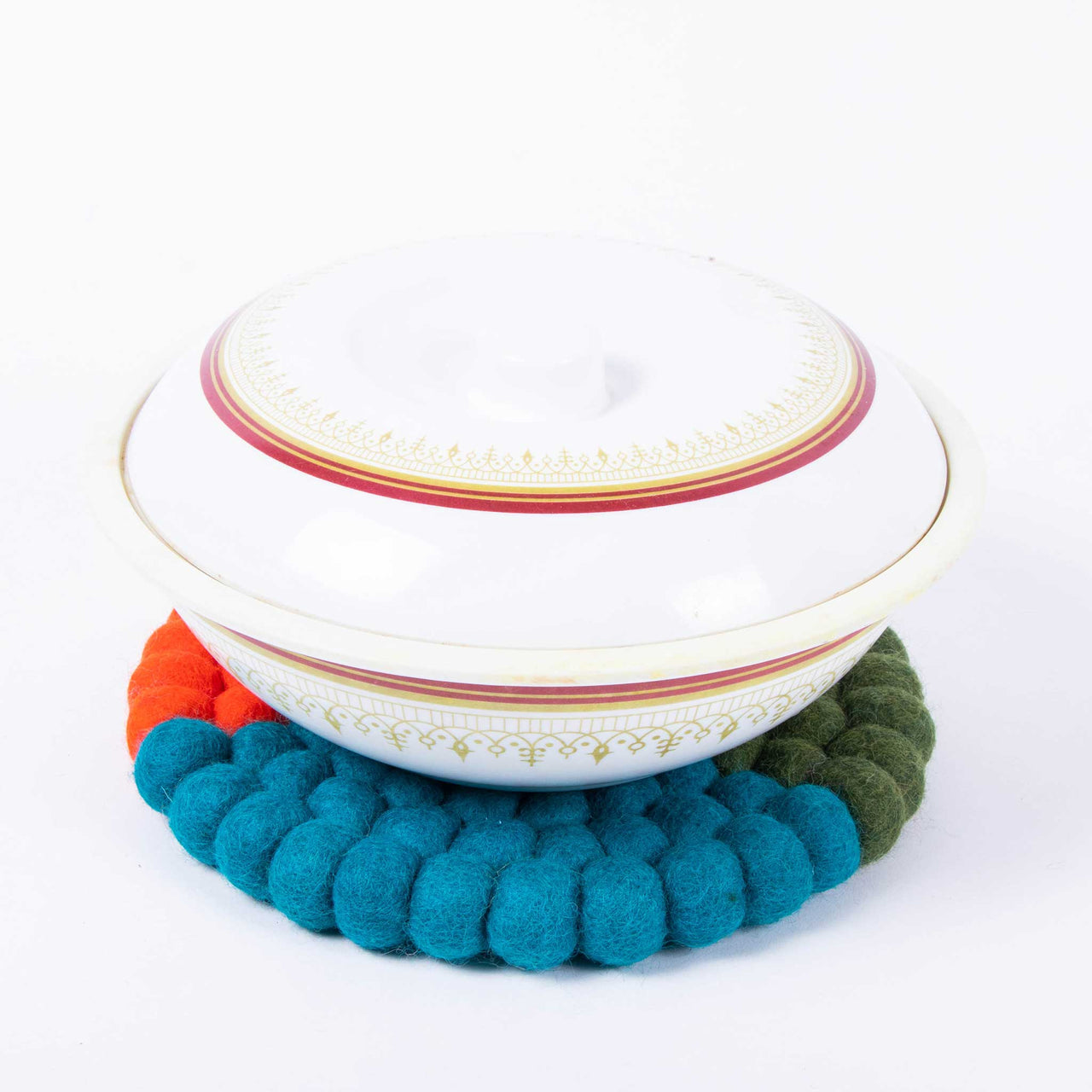 Description Care Instruction
Want to stop hot dishes from burning the table? Get used to wool felt trivet that will not only protect your table but offers a sophisticated look to your home. Hand stitched colourful felt balls that are arranged in a systematic manner provides an attractive look to the felt trivet. In addition to that orange, blue and green colours are selected here that provides bight appearance to the felt trivet set of Felt and wool.
Benefits:
Natural and safe: Felt trivet pads comes under the products that is natural and safe. Manufactured with 100% pure merino wool that goes under azo free dyes, felt balls are harmless. Stitching the balls by hands, felt trivet is given a proper pattern of three different colours that surely goes better with your table and desk.
Water repellent: In simple words, felt trivet for hot dishes is not easily penetrated by water. Such nature of wool felt trivet provides them a better chance of surviving a watery encounter. Water repellent nature makes the felt trivet a better product for your dining room or kitchen including plant pots.
Premium quality: Hot dishes mat from Felt and wool is of premium quality that everyone loves. During the purchase of any products, we search for the qualitative one. Why not in the felt? Made from pure New Zealand wool that lacks any sort of chemical, Felt and wool manufactures a perfect felt round trivet that meets your needs.
Fits everywhere: To the creativity loving people like you, felt trivet pads appear to be the best. You can use it on your dining table or kitchen for the placement of hot dishes or bowls. Along with that, wool felt trivet can be a proper base for your plant pots as they are dirt, heat and water resistant. Perfectly designed felt trivet sets fits everywhere.
Ultimate protection: Stains or scratches, both make the table or desk used or uncleaned. Nobody likes such thing that degrades the appearance of their home. Therefore, felt ball trivet comes up with providing ultimate protection to your table or desk from stains, scratches, water rings along with heat damage.
 Beautify your home with felt trivet made out of best trivet material namely wool. Superior thermal insulating property of wool generates heat naturally keeping your food warmer for longer period. Other than the fact, use of felt ball trivet can be an excellent product for the placement of your plant pots or the valuable treasures. Protection, along with decoration!
Here is the list that helps you, providing proper care instruction for the felt ball trivet:
Hand wash or dry clean is recommended during the cleaning process of felt trivet.
Do not wash on the machine or natural oils as the wools will be removed.
As colours of felt balls used in the felt ball trivet are of azo free dyes, it can be fade with strong sunlight.
Do not soak and rub balls of the trivet aggressively. It reduces the durability of the trivet making it look vulnerable.
In order to remove dirt from the felt ball trivet, let it dry and gently brush it off. You can simply dab the felt balls until the stain is removed.
Do not leave it in the wet areas. Together with that, wipe off the liquid as soon as possible if it gets spilled over wool felt trivet.
Hand made with love
Hand crafted with love from Nepal
Worldwide free shipping
FREE & FAST global shipping* on all orders
24 Hour Support Available