Super-Absorbent, Scratch-Free, Self-Drying, Handmade Trivet
Select package
4 piece
8 piece
16 piece
Felt Ball Size
1 cm
2 cm
2.5 cm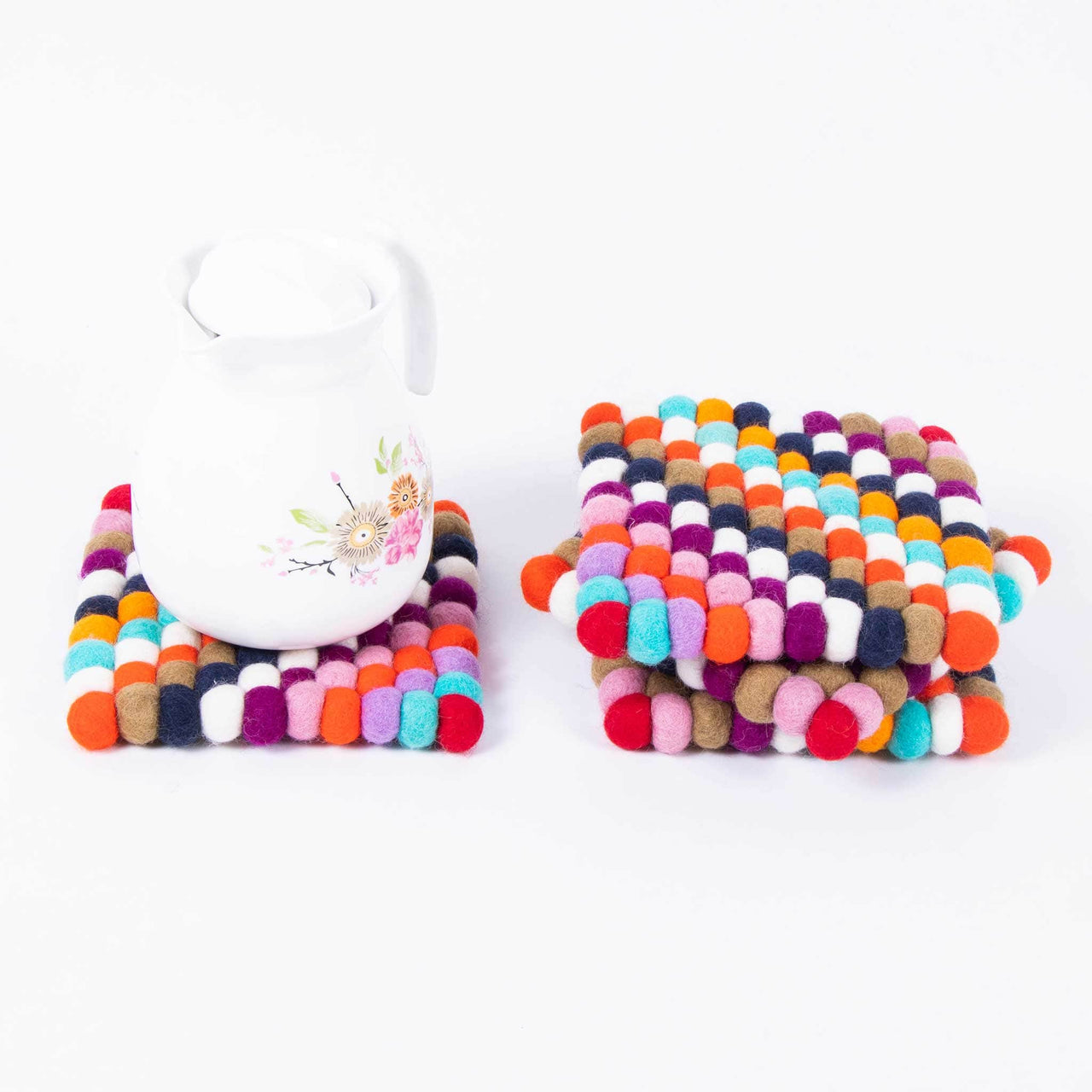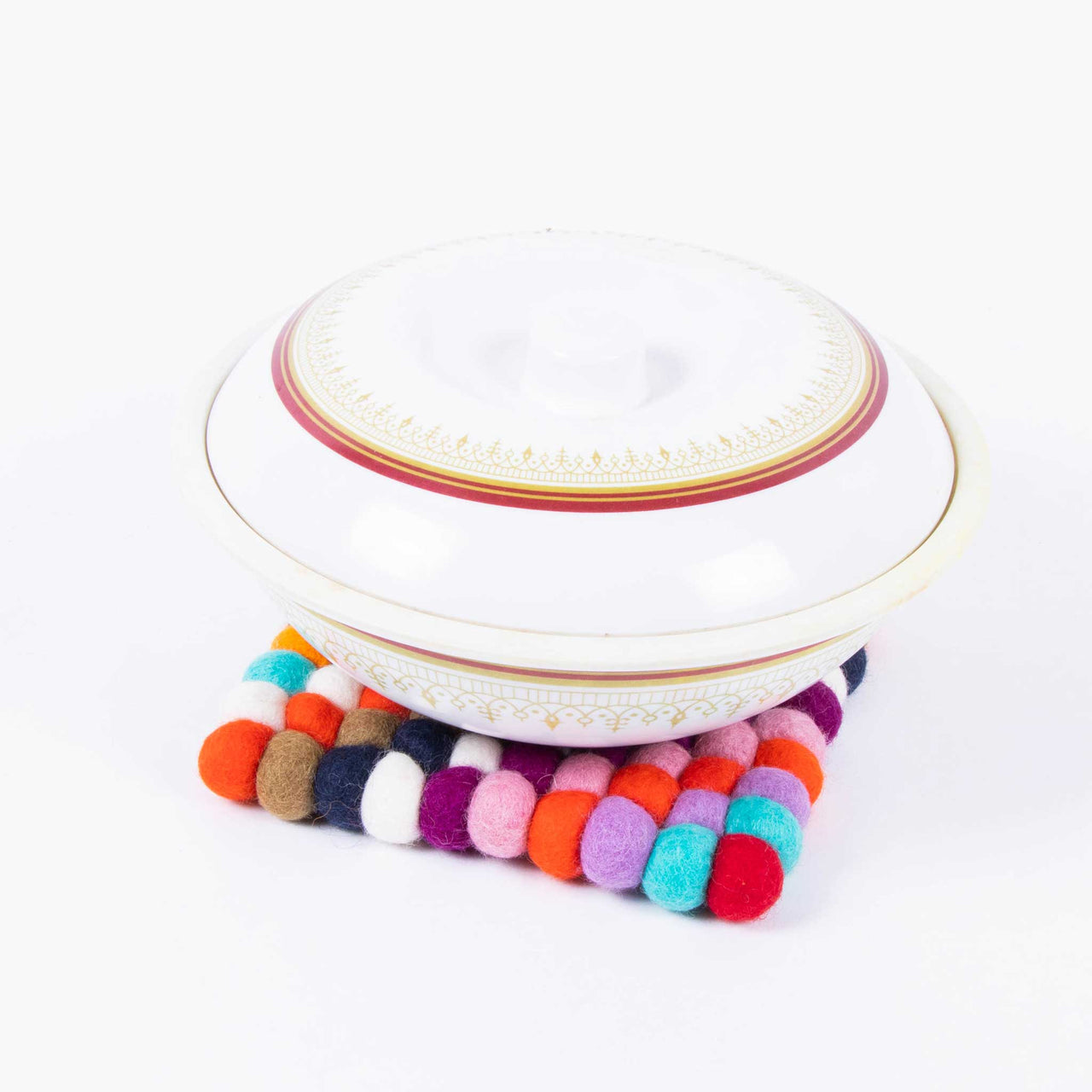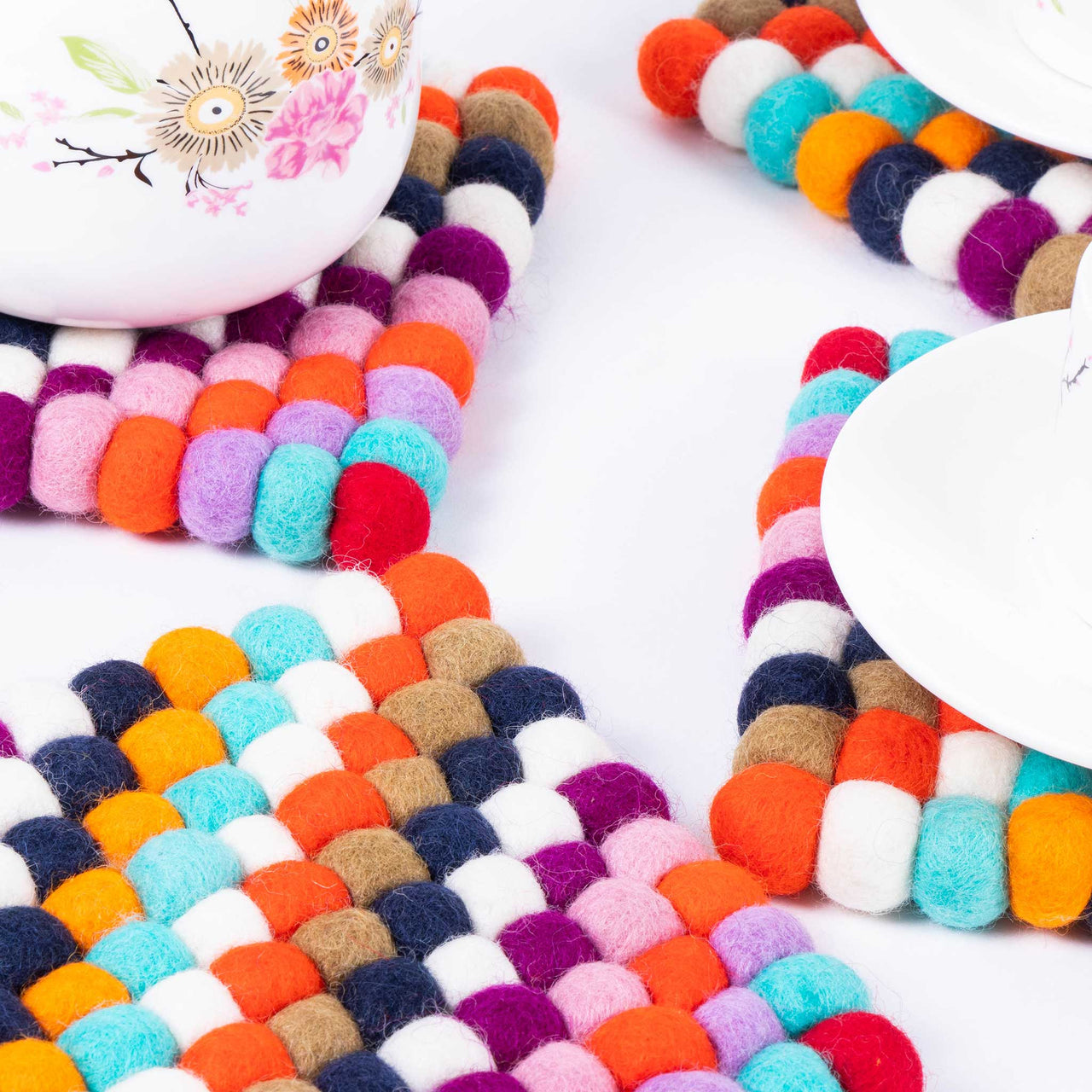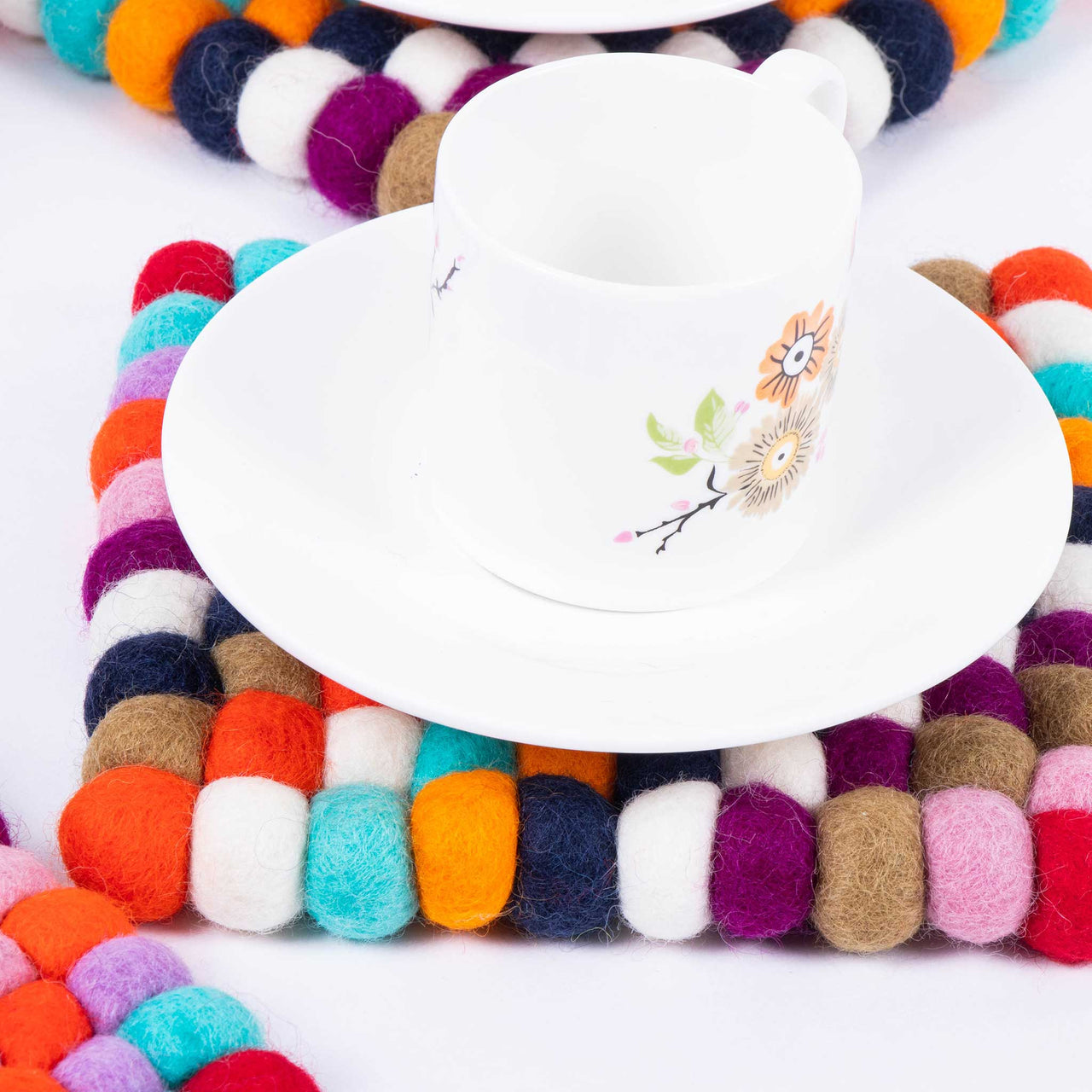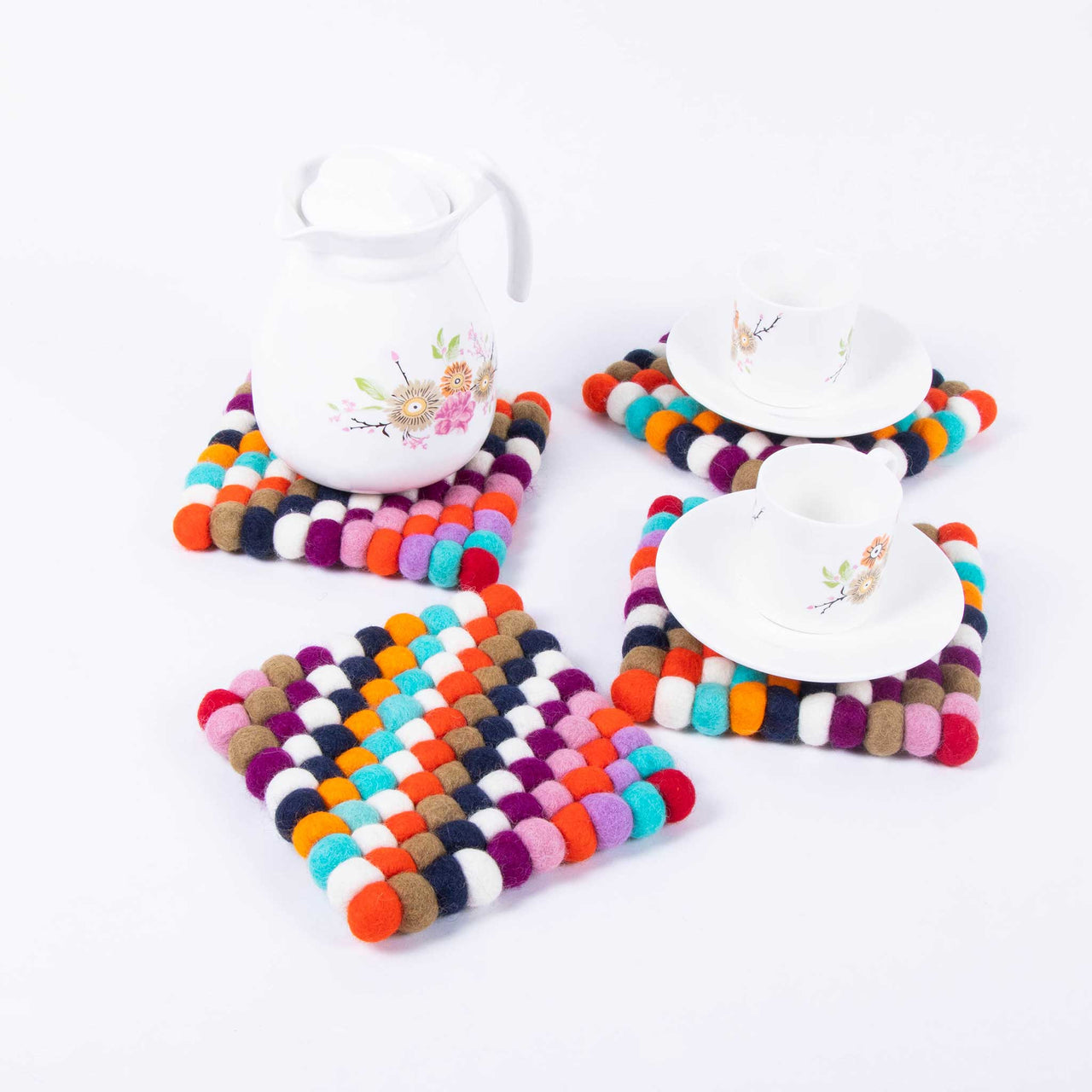 Description Care Instruction
Colours add beauty to life. Without colours life will be boring, so could be your home! Add beauty to your dining room, kitchen or even the placement of flower pots and treasures with multi-coloured felt trivet.
Felt and wool manufactures quality products with the aim of providing customer satisfaction. Similarly, square shaped wool felt trivet made out of multi-coloured pure merino wool felt balls protects, decorates as well as colours your table.
Features:
Manufactured with love
Resilient
Simply cleaned
Alluring look
Economical
Serving tool
Benefits:
Felt balls are thick enough and soft. When hand woven by local Nepali women with love providing proper shape, felt trivet pad is formed. Because of the use of pure merino wool, the multi-coloured square felt trivet comes up with the excellent design and look decorating your entire home.
Whether it's your hot dishes or plant pots, felt trivet square works effectively for both of the purposes. From reducing scratches and water rings to enhancing the beauty of your home, wool felt trivet gives its best.
As felt trivet set is dirt, heat and water repellent, it will be much easier for you to clean. Always use cold water for the cleanliness of wool felt trivet. Gently clean by hands, brush it off or spot clean it, it's as simple as a piece of cake.
Felt trivets for hot pots and pans can be used as a serving tool during the gatherings or family meals. Together with offering proper protection to your table, hot dishes mat presents the dishes in a creative and impressive way.
Multi-coloured balls used in the hand stitched square felt trivet are made with azo free dyes. Such nature makes the wool felt trivet non-allergic and non-toxic in nature.
Felt and wool, a felt item manufacturer and supplier presents you a felt trivet that meets all the core needs. From adding extra decor to adding warm, textural note to any table or surface; felt trivet ball benefits you from all the way.
Here is the list that helps you, providing proper care instruction for the felt ball trivet:
Hand wash or dry clean is recommended during the cleaning process of felt trivet.
Do not wash on the machine or natural oils as the wools will be removed.
As colours of felt balls used in the felt ball trivet are of azo free dyes, it can be fade with strong sunlight.
Do not soak and rub balls of the trivet aggressively. It reduces the durability of the trivet making it look vulnerable.
In order to remove dirt from the felt ball trivet, let it dry and gently brush it off. You can simply dab the felt balls until the stain is removed.
Do not leave it in the wet areas. Together with that, wipe off the liquid as soon as possible if it gets spilled over wool felt trivet.
Hand made with love
Hand crafted with love from Nepal
Worldwide free shipping
FREE & FAST global shipping* on all orders
24 Hour Support Available